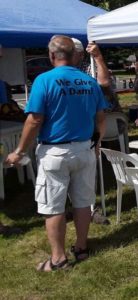 The Clary Lake Association is making another foray into the world of online retailing and to that end we've set up a simple shopping cart system using Paypal as our payment processor. While it isn't the world's most sophisticated shopping cart system, it works and should serve our purposes well for the time being. It should be self explanatory and problem-free, but if you have any questions or issues with it, please contact the Webmaster.
To start out, we'd like to sell the last of these classic We Give A Dam! tee shirts! There won't be any more of these! We had a dozen made for the 2019 Whitefield Fourth of July parade and people said they wanted to be able to buy some, so we ordered a bunch. Most of them were sold last summer at the Ice Cream Social and the Annual meeting. We still have a few of these classic tee shirts left (in several sizes) that we'd like to sell. You can have any color you want as long as it's BLUE! A few of our original Clary Lake Association Sweat Shirts have turned up as well and we'd like to sell them too. Please visit our Items For Sale page to see what we have to offer.
We're already getting to work on some new products for the upcoming year. We'll be starting out with tee shirts again but are also planning on offering CLA hats, coffee mugs, bumper stickers, etc. Stay tuned.