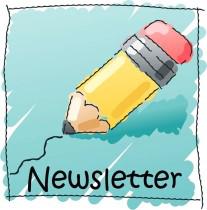 No really! The Clary Lake Association's Summer 2018 Newsletter went in the mail last Thursday afternoon and I have just added it to the Newsletter Archive. Many of you will have received it by now and you might notice it's only 4 pages this year rather than the usual 6, that's because a) I got a late start on it and b) I've been too "dam" busy, if you catch my drift. Actually it's always been a challenge for me to write copy for the newsletter, and I'd love to have people contribute in the future. If you'd like to help out with or contribute to future newsletters, consider joining the Newsletter Committee. Contact me and we can talk about it. Eventually I'd like to get back to sending two newsletters per year.
The Summer Newsletter traditionally kicks off our membership drive for the coming year (see who has signed up so far). We did finally reach our goal of 140 members for the current membership year (a record!) and our goal for the upcoming 2018/2019 membership year is 150 members which represents a modest 7% increase over last year's total. I'm confident we'll reach that goal. We're doing good work and we need your help and support now more than ever.
This is our second year of sending out a remittance envelope along with our newsletter. Last year we saw a dramatic increase in the number of people who joined the Association or renewed their memberships prior to the Annual meeting, and we attribute this to the ease and convenience of the remittance envelope. Having people sign up before the meeting both helped with cash flow and cut down on the congestion at the registration table. It also makes my secretarial life easier, which is a Good Thing. We're hoping the same thing happens this year.
Remember, anyone can be a member and multiple members per household is not just allowed, but encouraged. You no longer have to be a Clary Lake shore owner to join the Association. Please get your dues in as soon as possible. Hint: if you're already a member, you really only need include information on the remittance envelope that has changed from last year and if you have an email address PLEASE include it. You can also Signup or Renew Your Membership Online via your PayPal account or with a credit card. It's never been easier to give us money 🙂
Our mailing list has grown considerably over the couple of years, we're now sending the newsletter out to over 220 people and businesses. If you'd like to be on our mailing list, email me your snail mail address and I'll add it to our database.
Finally, please feel free to download the newsletter and share it with your friends and family. Thank you!