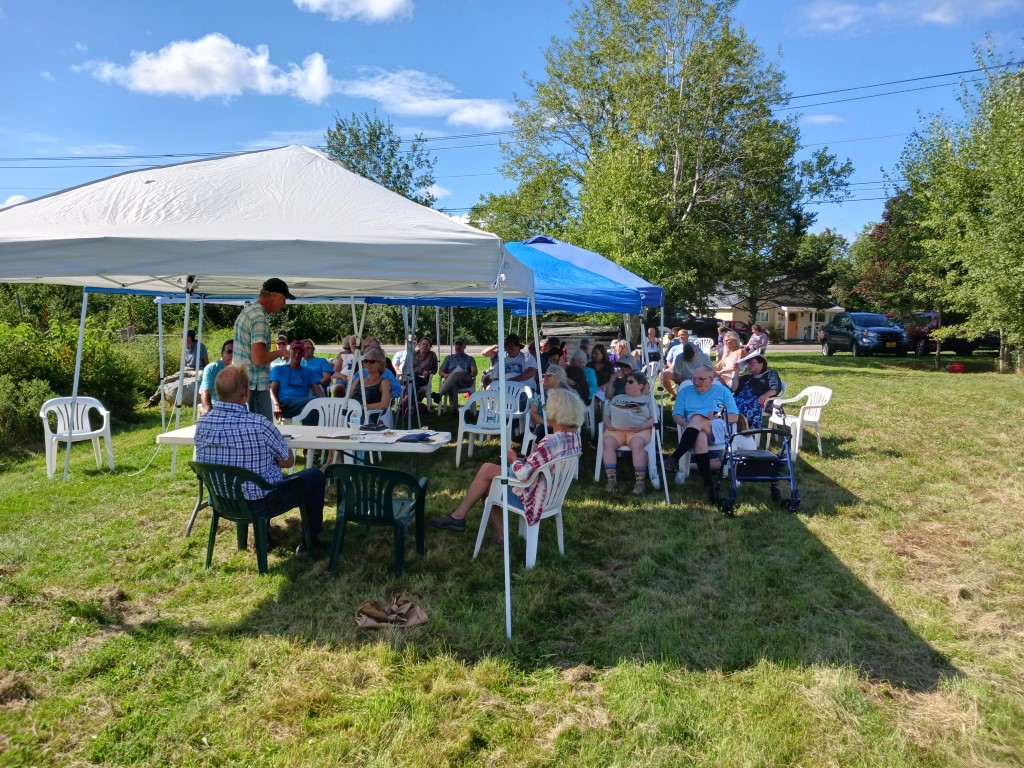 The Clary Lake Association's 2022 Annual Meeting happened, last Saturday at the Clary Lake dam. We couldn't have asked for a better day. The weather was perfect, the meeting was well attended (we even had a quorum this time!) and the food, as usual, was excellent (the baked black crappie and the blueberry pies deserve special mention). Because of the raffle drawing, we didn't have a main program this year. After introductions, the meeting started with review and acceptance of the 2021 Annual Meeting minutes followed by the Treasurer's Report and Proposed budget. Elections next, only one spot open this year: Maggie Muth was voted in as a Board member for 3 years, replacing outgoing Board member Kelsie French. Next came the Program and Committee reports: the Annual Loon Count presented by Mary Gingrow-Shaw; the Loon Restoration Project presented by Eleanor Goldberg; the Dam Operations, Courtesy Boat Inspection, and Lake Water Quality Program reports presented by George Fergusson; the Program and Events Committee report presented by Margaret Fergusson; and an update on the Dry Hydrant presented by Steve Cowles. Numerous questions were asked and answered. The only new business was a short statement at the end by Thomas Vigue about his plan to petition the IF&W to stock Clary Lake with Brown Trout. You'll find a few more meeting pictures in the Spring/Summer 2022 photo gallery.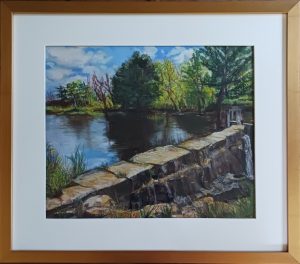 I'm a little uncomfortable writing about this next bit because I don't go around blowing my own horn but it happened at the meeting so I kinda have to report about it, so here goes. Earlier this year President Dave Knight, conspiring with the rest of the Board and without saying a thing to me, commissioned Linda Gallion, aspiring artist, former Treasurer and proprietor of Clary Lake Bed and Breakfast to make a painting of the Clary Lake dam, to be presented to me with a copy to be presented to Mary Gingrow-Shaw, at the Annual meeting. Neither Mary nor I had any inkling that this effort was underway; somehow they managed to keep it a secret! I guess the only instructions Dave gave Linda was that the artwork shouldn't include the red building. The photo at left is the result of her efforts, and it doesn't really do the artwork justice; the pastel measures 12.75″ by 15.25″ and is beautifully framed. There is an inscription on the back citing my efforts during the Dam Crisis (it was a group effort, really); a single print of the pastel was made and framed with a similar inscription on it, which was presented to Mary Gingrow-Shaw for her contributions during the Dam Crisis. Linda made the presentations. I was literally speechless, as was Mary. I still don't really know what to say except I'm grateful that through my and Mary's and other's efforts we were able to prevail in our battle to protect Clary Lake and buy the dam, and I'd do it all again. I'm glad all that strife, turmoil, and anguish is behind us, and I'm glad the red building isn't part of the picture 🙂
On behalf of myself and Mary, thank you Linda, and Thank You Dave for part in making this happen. I love this gift and what it represents, and I will cherish it for the rest of my life.
Phew. Where was I? Oh yes! The raffle!
2022 Raffle Drawing
We held the raffle drawing at the conclusion of the meeting. Wynne Keller was the winner of the Grand Prize, the Weber gas grill donated to us by Louis Doe's Garden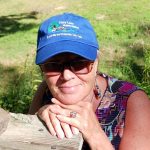 Center in Newcastle. The second prize, a $100 gift certificate from Reny's was won by Kastle Knight. The 3rd prize, a $25 gift certificate from Sheepscot General was originally won by me, but I declined the prize so a second ticket was drawn and the prize went to Kelley Doore. A wonderful pastel drawing of Clary Lake by Frances Hodsdon, donated at the last minute by her son Jeff Howe, was won by Alan Clark. More than a dozen "runner up" prizes including a few of our new Clary Lake Association hats (picture at left) and a dozen jars of Soothing Lotion donated by Stephanie and Jesse Cheney were also awarded.
Many thanks to EVERYONE who donated prizes for our raffle, it was a great success! We raised $2000 and plan to make raffles an annual event. The money raised will be used for dam repairs and maintenance.
About those Hats!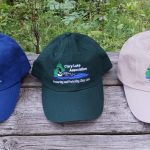 About them hats: our initial order was for 30 hats and we have Kelsie French to thank for them, she took the initiative to get them made. They're for sale for $25 each. These hats are here to stay. We've currently got them in 3 colors (Green, Blue, and Khaki) and plan on getting more soon. We also plan to try out tee shirts and hooded sweatshirts with the same great logo and eventually we'll be selling all this merchandise on the website, but first need to set up a reliable means of fulfilling and shipping orders conveniently and quickly. For the time being, if you'd like to get a hat or have suggestions for merchandise you'd like to see (use your imagination!) you can email or call George Fergusson or use our contact form to send us an email.