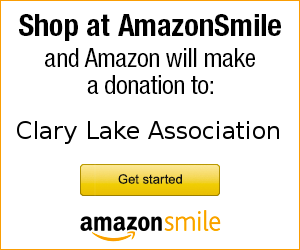 The Clary Lake Association is happy to announce that they are now eligible to receive donations at no cost to you in the form of a small percentage of your purchases on AmazonSmile. For those of you who have never heard of AmazonSmile (I hadn't until a few days ago), it's simply another way to shop at Amazon.com with the difference that anything you buy on Amazon.com you can buy on AmazonSmile and Amazon will donate 0.5% of the purchase price to the charity of your choice! We of course would hope that you select the Clary Lake Association as your preferred charity, but you are free to select any charity you wish. All you need is an Amazon.com account.
You'll notice a new AmazonSmile banner over on the sidebar, just to the right (under What's New") just like the image at the top of this post. When you click on that banner image you'll be directed to smile.amazon.com pre-configured with the Clary Lake Association's ID so you can just start shopping. You can also share that link with your friends and colleagues so they too can contribute to the Association:
http://smile.amazon.com/ch/01-0495730
Now, 0.5% doesn't amount to a lot of money on any given sale (only 50 cents on a $100 purchase), and our user base at present is rather small but if you use it, and you ask your family and friends to use it, over time, it can add up to real money. I have the distinction of being the first person to use AmazonSmile to contribute to the Clary Lake Association; earlier today I ordered a linquini attachment for my Marcato Atlas pasta machine, something I've been wanting for a long time. It cost $39.95 and the sale resulted in a $0.19 donation to the Association 🙂
Remember, it costs you nothing to contribute to the Clary Lake Association through AmazonSmile.
For more information about AmazonSmile check out their About AmazonSmile page.