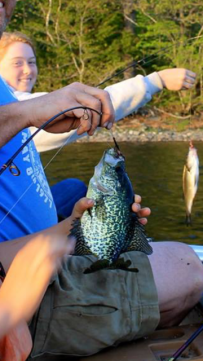 Jack Holland sent me a picture the other day of a full-grown Black Crappie that was caught by 9 year old Eric Richmond in Clary Lake last week. According to his mother Rachael Richmond, they were fishing near the State boat launch and caught the 2 fish in the photo at the same time (the other one is a white perch held by Eric's sister). They let both fish go.
Jack tells me that he believes his neighbor has caught 2 crappies in the past couple of years so it sounds like there's a new species of fish in Clary Lake. The Black Crappie aka Calico Bass (Pomoxis nigromaculatus) is a non-native species in Clary Lake meaning it was introduced either intentionally by someone who wanted to supplement the lake fishery or accidentally by an ice fisherman by releasing bait. Both actions are in violation of State law. From the Maine IF&W website:
Adult Size: Sexual maturity is reached between 2 and 4 years of age, at which time crappies may be 6 to 10 inches long. Typical crappie fisheries produce fish between 6 and 11 inches long, although crappies exceeding 14 inches and 3 pounds have been caught in Maine. I think it's safe to assume there is a breeding population in Clary Lake now.
Identification: Closely resembling bass and sunfish species, which have 10-12 dorsal fin spines, crappies possess 6-8 dorsal fin spines. Body form is very deep and narrow (laterally compressed). Coloration is silvery-olive to golden brown, with an irregular mosaic of dark black blotches.
Crappies are a popular fish with a lot of people and are supposedly quite good eating. If you catch a crappie in Clary Lake, please let us know. Biologists with the IF&W would like to know too.