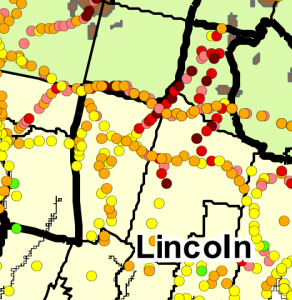 The Maine Department of Agriculture, Conservation & Forestry (DACF) and other groups are predicting the 2021 Browntail Moth season will be a bad one. A recent article in the Bangor Daily News (worth reading!) is claiming this will be the worst infestation of BTM in over a century. It sounds like hyperbole but could well be true. The picture at left is a small section of a Browntail Moth 2021 Winter Web Moth Survey (PDF) published by the DACF shows the results of a drive-by survey conducted earlier this winter, hence the survey data are along major roads. The blow up includes Whitefield & Jefferson and shows medium to heavy concentrations of Browntail moth webs along Routes 126, 218, and 215 (South Clary Road). Of particular concern is not just the number of webs spotted (dot colors primarily yellow, tan, and red), but the density of dots which is an indication of how many individual vehicle stops were made. I've inserted the above picture into Google Earth. Download this KMZ file and load it into Google Earth.
I was talking with a friend the other day about the history of BTM in Maine, I'd read somewhere that they were imported from Europe in the late 1800s. I wanted to know more so I went searching and came across this excellent slide show:
I've recently done my own "survey" around my property on the south shore of Clary Lake and spotted an alarming number of webs in the tops of Oak trees. Most have some webs, a few have none, and a few have lots of webs. Despite having found an inexpensive and relatively effective treatment for the rash, I'm not looking forward to a repeat of last summer's problems with BTM!
Browntail Moths caterpillars are already emerging. Be on the look out for them.