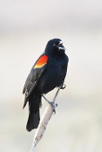 I was visiting Jane Chase this morning and she happened to mention an impassioned letter to the editor of the Lincoln County News that she'd read recently that did not ring a bell with me. Sadly, as much as I try and stay on top of everything going on these days, I just can't and I rely heavily on other people to let me know about things of importance to Clary Lake and the water level petition. Jane found a copy on line and sent it to me. The letter to the editor turned out to be by none other than my good friend Howard Nickerson and was sent to the paper back in the middle of March. My apologies for just now getting it posted.
What price are we willing to pay?
Howard owns land up in the northeast end of the marsh on the east side of Clark's Meadow Brook adjoining land of Sue McKeen and Butch Duncan. He's a life-long conservationist.