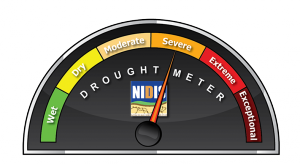 I don't need to tell anybody that we need rain. For some time now we've been experiencing SEVERE drought conditions around Clary Lake and SEVERE to EXTREME drought conditions in and around New England, depending on locale. I found this neat CGI script at the  National Integrated Drought Information System site that provides up-to-date drought information and decided to put it on our website. Enter one of Clary Lake's 2 Zip Codes (Whitefield o4353 or Jefferson 04348) for current drought conditions here. For current drought conditions in your area, enter your own zip code (or search for one). You can reset it with the reset button to check different areas. It works for the entire country.
Once you've entered a zip code, you'll find some useful information by following the links provided under the Drought Meter graphic. The National Integrated Drought Information System is a great site to poke around. I've added it to our Links & Resources page.
I have put up a Drought Meter page. Check it out. You'll find the page linked under the Weather Main Menu heading.