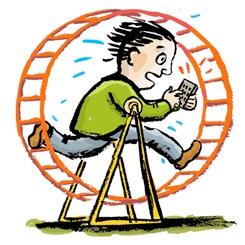 After three days of more or less non-stop work on the website (and a couple of sleepless nights!) I'm fairly happy with where it stands. On Monday I announced I was going to install a new responsive website theme, on Tuesday I did that, on Wednesday I completely redesigned the menus (after first accidentally deleting the old ones!) and today, four days later, after making some final tweaks to the menus, I'm proclaiming the site redesign done. More or less. Sorta. One thing I've learned over the past fourteen years running a website for the Clary Lake Association is that they're never done, they're always a work in progress.
Menus can make or break a site. Complex and nicely nested menus are great if you're on a desktop or laptop computer with a mouse, but they can be hell to navigate with a fat finger on a tablet or smartphone. While I'm not 100% happy with the new menus, they're a whole lot better than they were. I've received some feedback from a few smartphone users that the site is a whole lot easier to navigate now than it has been in the past. Popular site destinations like our News and Webcam pages are near the top of the menu structure so you don't have to scroll endlessly to find them. I've also actually made Webcams a top level menu item of its own since it's so popular. I can probably make some more improvements over time but for now I'm going leave well enough alone.
I was reading about a specialized "responsive" menu plugin that supposedly works especially well with smartphones and tablets, and I may install it and see what it's like. I'm also particularly interested in feedback from site visitors- what is and isn't working for you and what you'd like to see on the site. Use our Contact and Feedback Form to reach me.
Now I think I'll go fishing 🙂