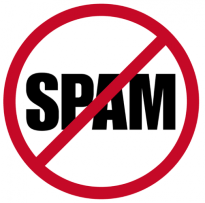 I'm looking for volunteers to help with testing our email and digital newsletter distribution system. Recent events have made it painfully clear that we need to make some improvements if we're going to be able to reliably email our Membership.
Sending emails is pretty much routine these days and generally a reliable means of communicating as long as humans are doing it, but as soon as you put a program in control of the process and try sending an email, announcement, or newsletter to even as few as 80 or 100 addresses, remote mail hosts get twitchy, some more twitchy than others. If they sense spam, they're either going mark it as spam so it ends up in the recipient's spam folder, or they are just as likely to reject the message outright. Spammers are getting more sophisticated and spam has become a serious problem. Mail hosts are increasingly taking a "shoot first, ask questions later" approach in dealing with it. This may minimize the spam that ends up in your mailbox, but it also can prevent legitimate non-spam emails from being delivered. There are ways to minimize the chances that a bulk email will be marked as spam, but there are no guarantees.
The Clary Lake Association has sent several emails to its membership in the past few months. The first one was about the Boat Launch Cleanup Initiative back in August, and more recently, an email about the upcoming Harvest Potluck Supper was sent to our Membership just a few days ago. Both emails failed to successfully get sent to all addresses on the first try, with each requiring additional shenanigans on my part to finally get the emails sent. It was a tedious process and not wholly satisfying, to say the least. And for all that, I still have no idea how many of those emails ended up in spam folders or weren't delivered at all. I do know that for the most recent email, for whatever reason, only about 1/3 of the emails that I know were actually sent have been opened. We can do better than that.
The Clary Lake Association needs a reliable means of communicating via email with our membership. To that end, I'm going to conduct a series of email tests designed to streamline our email procedures, improve delivery, and minimize the likelihood that any emails we send will be viewed as spam. I've already implemented some big changes which will undoubtedly help with our email success rate and I'm looking for volunteers willing to help out with testing additional measures. Helping out is simple: just agree to receive some test emails and keep an eye on your spam folders. If I send an email and it ends up in your spam folder, you should let me know. Otherwise, all you need to do is open the message, click on a link, and then delete the email. That's it.
I'd like to put together a list of about 40 email addresses to test with, and I expect I'll be sending 3-5 test emails over the course of a week or two. I will be reaching out in the next few days to selected people to see if they'd be willing to play. If you're willing to help out, either comment on this post or email me at gsfergusson@clarylake.org and let me know and I'll add you to the list. Thanks in advance!