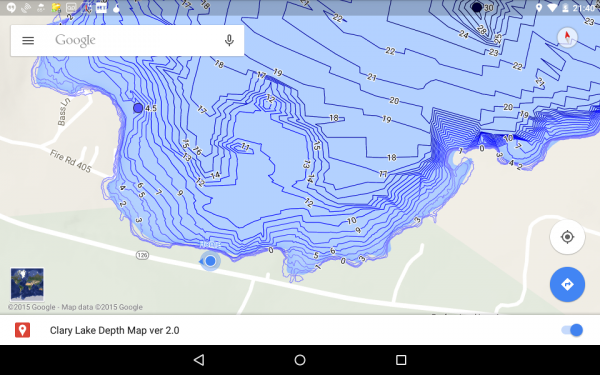 When I first posted about the Clary Lake Depth Map last week I mentioned that you could use it with a GPS in real time on a tablet or smartphone. I should have said "in principle" because at the time I actually hadn't tried it yet… A couple of people asked me about this and I had to tell them that I was still working on it. Well now I have tried it, and I thought I ought to post something more about it. It turns out it DOES work (I knew it!) but it did take a little doing to get it working well out on the lake without an internet connection.
The tricks includ saving the map for "offline use" (see Google Maps "tips and tricks" for how to do this) turning off automatic screen rotation so the app doesn't try to reload the map, not trying to zoom too much (people with a 3G or 4G data plan from their service provider and who can access the internet anywhere won't have these issues). Above is a screenshot from my Nexus tablet I took the other day showing the Clary Lake depth map  overlaid on Google Maps with GPS positioning enabled (the blue dot with the arrow head and ring around it shows where I was at the time, on my deck). As you move around the lake, the GPS updates your location shown on the map which makes it easy to locate a rock, ridge, or slope where you're likely to find fish hanging out. How cool is that? This combines things I enjoy a lot, fishing, computers, and using maps. Now if I could just figure out how to convert the depth map into a format that can be uploaded to a Lowrance Mark IV depth finder, I'd be truly happy. You'd think this would be easy.
If you want to give this a try using your smartphone or tablet, first make sure you have location services enabled then copy and paste the following URL into your browser, and head out onto the lake:
https://www.google.com/maps/d/viewer?mid=zb1eVxqneIkk.kyhM9B_EX4Ks
If you try this let me know how you make out. Remember to subtract the current lake level (in feet, presently about 5′) from the depths shown on the map. This will also give you a good idea of areas around the lake to avoid due to lack of water.