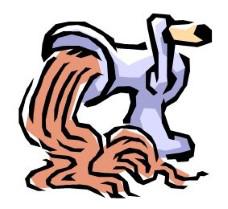 You may recall back on August 2nd, DEP served Petitioner AquaFortis Associates LLC with their requests for discovery. Then on September 1st AquaFortis Associates filed a consented-to motion regarding various deadlines (see Petitioner Files Consented-To Motion Regarding Deadlines). In that filing they made clear their intention to object to (some or all of?) DEP's requests for discovery by August 31st. On August 30th attorneys for AquaFortis Associates did indeed file 3 separate motions objecting to 1) DEP's Request for Production of Documents, 2) their Deposition Notice, and 3) their Request for Discovery of Third Parties. The following day on September 1st they filed a Motion for Additional Evidence and Discovery. I received copies of all these filings a few days ago and have finally finished my review of them. I understand a conference with the court to address these issues has been set for October 4th.
We don't know exactly what was included in DEP's August 2nd request for discovery so we can't know whether there is anything they requested that Petitioner Aquafortis Associates has NOT objected to. However, it is hard to imagine what else the State might have asked for beyond what we're already aware of, so I'm guessing Petitioner AquaFortis Associates objected to everything. Is this standard operating procedure, the way the game is played? One side makes requests for information, the other side objects to them? It wouldn't surprise me. Pretty much regardless of the specific nature of the discovery request, AquaFortis objected to it with 
"AquaFortis objects to this request on the ground that it is overly broad and unduly burdensome and that it seeks information that is neither relevant nor reasonably calculated to lead to the discovery of admissible evidence." 
I presume this will all get sorted when the parties meet in Court this coming October 4th. Here are the 3 filings objecting to the DEP requests for discovery:
Regarding the motion for additional evidence and discovery, the lead paragraphs provide us with a sufficient summary of what they're asking for:
Petitioner Aquafortis Associates, LLC ("Aquafortis') hereby moves pursuant to Rule 80C(e) and (j) of the Maine Rules of Civil Procedure for an order permitting the taking of additional evidence and discovery related to its appeal of the Maine Department of Environmental Protection's ("DEP") Water Level Order (#L-22585-36-B-N) ("WLO").
In this motion AquaFortis seeks to take additional evidence on (1) the DEP's decision not to enforce the repair provision as a basis for a violation of the WLO; (2) engineering opinions that conclude that the Clary Lake Dam is and has been breached since prior to the filing of the Water level petition; (3) the DEP's communications and memoranda regarding amendments to the Water Level Act during the pendency of this appeal; (4) the DEP's decision not to act on the Petition for Release from Dam Ownership and Water Level Maintenance filed by Pleasant Pond Mill, LLC; and (5) documents, communications, and memoranda regarding the procedures the DEP used during the Branch Mills Flour and Grain/Branch Pond Dam water level proceedings."
Here's the Motion for Additional Evidence and Discovery:
Stay tuned.