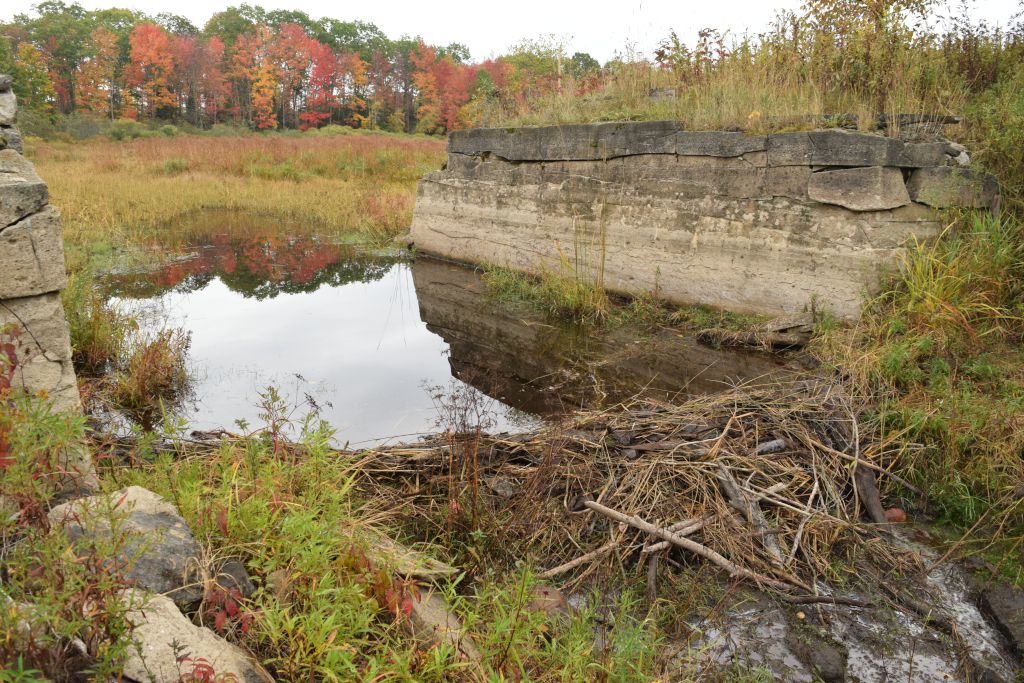 The water level of Clary Lake has effectively bottomed out this fall about a foot higher than it did last fall. I know the outflow rate has been slowed down considerably as a result of thick vegetation in the outlet channel, but that still didn't explain why the lake hasn't fallen as low as expected. Today I discovered why: beavers have begun to block the channel at the downstream end of the Narrow Gauge Railroad abutment located at the head of the mill pond (picture at left). The small dam is only about one foot tall but it is already holding back Clary Lake.

Sadly, I don't think the beaver responsible for this new dam are going to get a chance to build it much higher: beaver trapping season in this area starts October 29th, and this morning I saw Richard Smith, owner of Aquafortis Associates LLC standing on his side of the Narrow Gauge Railroad abutment talking with someone who looked like (and drove the same red Ford pickup truck as) the person they hired last March to trap out the beaver that had been working to plug up the outlet gate last winter. At least he was driving the same red Ford pickup truck.

While up at the narrow gauge abutment looking at the new beaver dam, I happened to notice that Kelley and Smith have put a tarp over one side roof of the red building (at left) and fastened it down with battens. Nice to see them maintaining their property.
Finally, as I was walking back to my car, I noticed that the gate which has normally been obscured by weeds was fully visible, so I took a picture of it (at left). I've known all along that the 34″ diameter gate was partially obstructed, but I always thought is was blocked by a log or rocks or something. However, the picture clearly shows that the gate was built that way: the 'obstruction" is actually made of steel and completely blocks the bottom third of the gate.
These pictures have been added to the Fall 2017 Photo Gallery.