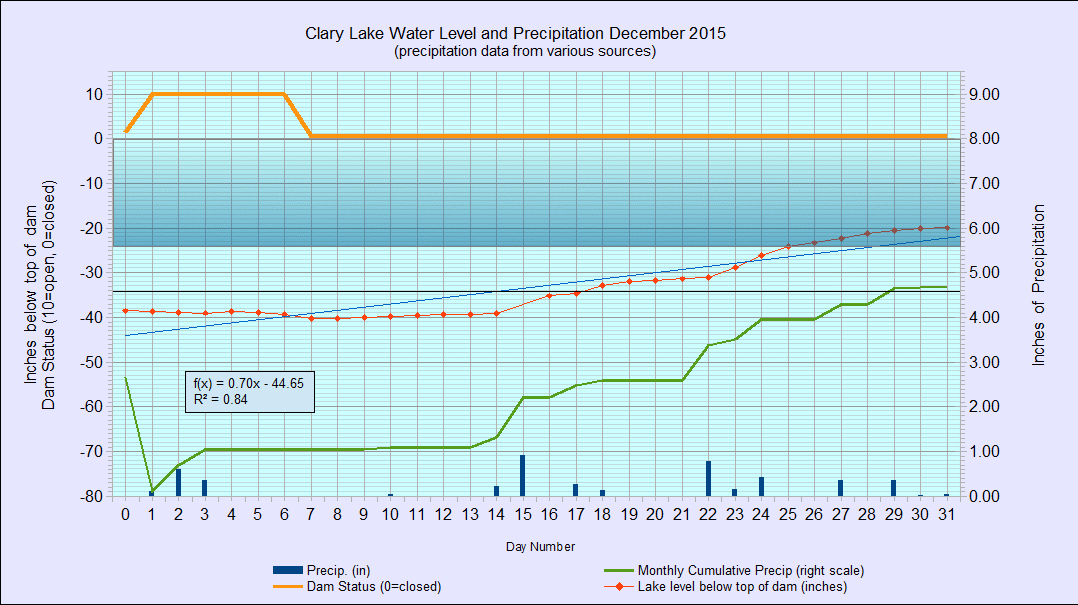 I've archived the December 2015 Water Level Chart (at left). The most notable thing about it is that for the first time since the Clary Lake Water Level Order (WLO) was issued in late January 2014 the lake level is more or less where it should be this time of year. I already wrote about this back on December 27th so I won't say more about it now. You'll also notice the area of the chart between 0″ and 24″ below the top of the dam (left hand scale) is now shaded to make it easier to see when the lake level (red line) is within the allowable 24″ range.
We received 4.7″ of precipitation in December, a little more than normal. However, the total precipitation for the year of 36.8″ was still 7.2″ (or about 2 months worth) short of  the 44″ we typically receive in a normal year. For comparison we were a little over in 2014 (46.9″) and a little under in 2013 (40.2″).

It remains to be seen where the lake level it going to go this winter. As of yesterday afternoon the gate was still about 95% closed and if it remains that way the lake level should remain in the "allowable" range until spring. Normally, with much of the winter precipitation tied up in the form of ice and snow, runoff is usually less during the winter months. With the hole in the dam letting out more water than the gate, it is entirely likely the lake level will fall below 24″ before long. Time will tell.