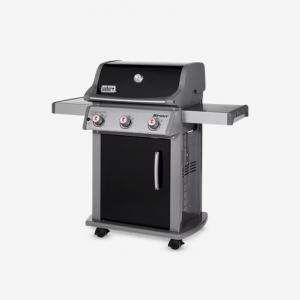 The First Annual Clary Lake Association Raffle is underway. The first prize is a Spirit E-310 Weber gas grill (pictured at left) with a retail price of $640, graciously donated to us by Louis Doe Garden Center in Newcastle. If you know anything about grills, you know Weber is first class! We're grateful to Mark and Tara Doe for giving us the "push" we needed to get busy fundraising, and for their special contribution.
We have runner up prizes! Our First Runner Up Prize is a $100 Renys Gift Card! Over the years, Renys has been a major supporter of the Clary Lake Association. In no particular order we also have:
A $25 Sheepscot General Gift Certificate!

A Grill Brush and Hanger from Grill Rescue valued at $73, purchased new and donated by Amy and Adam Harkins. This is a grill brush without wire bristles, it avoids accidental ingestion of wire bristles that can happen with your standard wire brush. I want one!
Stephanie and Jesse Cheney own Soothing Lotion, LLC has donated a case (12 bottles with a total retail value of $120) of their Soothing Lotion for Browntail moth rash which incidentally also works on other insect bites. I've tried this stuff and it's great! It's unclear at this point whether we'll award the whole case or individual bottles of lotion.
Damariscotta Hardware has donated a case of disinfectant wipes with a retail value of $50.
More to follow.
Here's what our tickets look like. You keep the big part. We keep the small part:

Tickets cost $5 each or you can buy 5 tickets for $20. There is no limit to the number of tickets you can buy. Incidentally, money that you spend on raffle tickets is not tax deductible, even if given to a nonprofit organization such as the Clary Lake Association. The drawing for the raffle will be held at the Association's Annual Meeting on Saturday August 27th at the Clary Lake dam on Route 218 in Whitefield. The meeting starts at 2PM and usually goes for about an hour and a half. We'll hold the drawing at the conclusion of the Membership Meeting. YOU DO NOT NEED TO BE PRESENT TO WIN! Make sure that you write your contact info (at least your first name and phone number) on the back of the ticket stub so we can reach out to you to let you know you won. Gift certificates can be mailed. Particulars for claiming the 1st prize will be furnished at a later date.
How To Get Tickets
There are a variety of ways you can get raffle tickets:
Tickets will be available at the Annual Meeting on Saturday August 27th from about 1PM until the drawing.
We'd like to make it easy to buy tickets! You can simply email your name and phone number to ticketsales@clarylake.org and someone will call to make arrangements to meet up with you to get you some tickets!
If you would like to buy some raffle tickets, you can use the button below to pay for them with Paypal. Make sure we have your full name, mailing address and email address and we'll put your tickets in the mail to you and put your ticket stubs in the bucket with all the rest.

Check back here for updates.