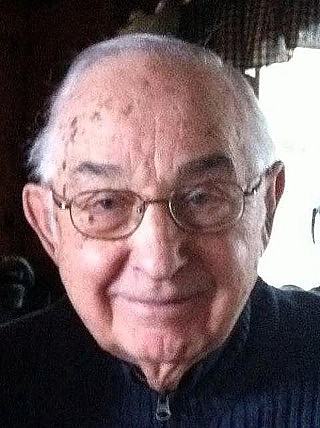 Robert Frederico Antognoni
1925 – 2015
JEFFERSON – Robert Frederico Antognoni, 89, died peacefully at his home on Clary Lake, surrounded by his loving family on Wednesday, March 4, 2015. Robert was born on Aug. 22, 1925, in Concord, Mass., to Secondo and Ersilia Fraticelli Antognoni, who had both immigrated to the United States from Fano, Italy.
He graduated from Concord High School in 1943, and promptly joined the United States Navy at age 17. After serving his country in World War II, Bob attended Boston University, graduating with a degree in Music Education in 1950. He later earned a Master's Degree in Elementary Education from the University of Maine at Orono in 1976.
In 1956, Bob met Arolyn Dow in Dexter; they fell in love and married on June 22, 1957. They shared an initial connection through music and dancing, and went on to share 55 years of love, marriage and friendship, and created a beautiful life and family in Maine.
Bob's teaching career began in the Dexter public school district, where he served as a music instructor from 1950-57; later he became the music director for public schools in Ipswich, Mass., from 1957-61. In 1961, Bob and his family moved back to Maine, where he served as the instrumental and choral music teacher for the newly formed Hall-Dale school district. After a brief relocation to Puerto Rico with his family, Bob taught 6th grade at Sheldon St. Elementary School in Farmingdale, where he later served as principal of the school from 1973-83. He then fulfilled multiple roles for the Gardiner Federal Credit Union, serving as a volunteer, president/CEO and chairperson of the Board of Directors until his retirement in 1990.
Throughout his professional life and retirement, Bob remained active in community engagement and civic service. He was the founder of the annual Knights of Columbus/St. Denis charity golf tournament, which raised funds and assisted people in need. He was a beloved member of the Clary Lake Association, and served as treasurer for the Knights of Columbus and the Highland Cemetery. Bob was a man of boundless faith, and was a longtime member of St. Denis Catholic Church in North Whitefield. He sang in the choir, and took part in many of the church's restorative efforts over the years.
Bob was an avid golfer and a long-standing member and employee of Sheepscot Links in Whitefield; he will be fondly remembered on the greens for his humor, sharp wit, pleasant company, and golf prowess. He particularly loved keeping his garden, and was known for his prize-winning garlic and tomatoes. Bob loved music deeply, and he sang with various choral groups throughout New England. He had an affinity for good company and good food – particularly black raspberry ice cream – and above all, loved spending time and sharing laughs with family and good friends, of which he had many.
Robert was predeceased by his wife of 55 years, Arolyn Dow Antognoni in 2012; and also by his son Mark Antognoni; and his grandson Anthony Massey. He is survived by his brother Joseph Antognoni of Carlisle, Mass.; his four children; 11 grandchildren; and four great-grandchildren; as well as many extended family members and friends throughout New England. His children and their families include Jean and George Phelps of Gardiner, Mary Antognoni of Jefferson and Todd Hornecker of Weatherford, Texas, Robert S. and Donna Antognoni of Randolph, and Andrea and Sean McGowan of Denver, Colo.
Bob was particularly proud of his grandchildren and their families, who include Joshua Massey and his wife Sarah of Richmond and their children Sophia and Samuel; William and Michael Phelps of Gardiner; Brett Hornecker of Alexandria, Va.; Jared Hornecker of South Portland; Seth Antognoni, his wife Meagan, and their children Riley and Thomas of Biddeford; Kaylee Antognoni of Lewiston; Robert E. Antognoni of Randolph; Theo Brown of Marlboro, Vt., and Eamonn McGowan of Denver, Colo.