I blame my father. I'm not one to seek attention but I suppose this is news and if I don't share it here, no one will 🙂
From the Maine Lakes website's 50 Lake Heroes for Our 5oth Anniversary post:
---
George Fergusson, Clary Lake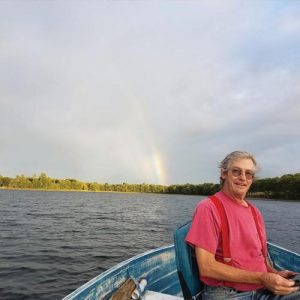 In 2011, Clary Lake and its Association were in trouble. A dispute with the owner of the dam controlling the lake level was leading toward seven years of unswimmable, unboatable water and significant environmental damage to the natural resource. Only 28 of 100+ littoral owners were members. Now in 2019, thanks to the unwavering efforts of George Fergusson, the Association's long-time Secretary, the CLA has purchased and repaired the dam, the water level has been restored, and 148 (!) members can once again enjoy the benefits of a healthy lake.
George has lived on Clary Lake his entire adult life, and has been its prime steward for decades. He instigated the 2012 petition to DEP for a Lake Level Order, and then bore the brunt of legal harassment by the dam owner that prevented the Order from being implemented for five years. This included endless hours compiling and drafting documents for court, attending innumerable hearings, and managing fund-raising for legal expenses. His personal solicitation of new members meant that when the dam fell into bankruptcy, the Association could raise $120,000 for purchase and repair. George is a certified Water Quality Monitor, and has measured and maintained daily records of the lake level for years, information that was crucial to DEP's recent approval of CLA's Water Level Management Plan. He has been tireless in meeting with town officials, state agency staff, the press, contractors, and attorneys to keep the effort moving forward, and continually encouraged the Board of the CLA even when the quest seemed hopeless and endless.