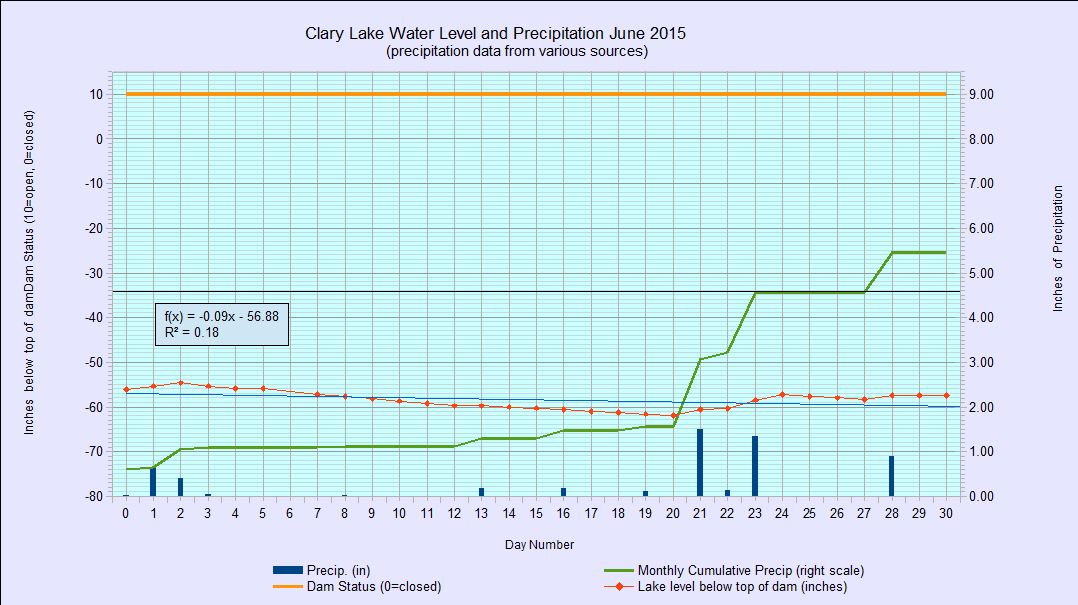 I've archived the June 2015 water level chart. The lake level remained in a fairly tight range for the whole month, fluctuating only ± 3.7″ and ending up the month a little off its lows at -57.36″ below the top of the dam. It fell to 62″ below the top of the dam on June 20th, only the second time in 4 years it has gotten that low.  In comparison, during the month of May the lake level fell precipitously at over 1″ per day, for the entire month. Despite the above average amount of rain we received in June (5.46″ compared to an average of 0nly 3.54″) the lake level remained largely unaffected because so much of the precipitation soaked into the ground rather than running off into the lake. As a result, the runoff multiplier was closer to 1X to 1.5X rather than the normal 4X multiplier. May's rainfall total was so far below average (only 0.60″ compared to an average of 3.7″) that even with all the rain we received in June, we're still several inches below normal.

The state boat launch remains largely unusable except for carry-in traffic and small boats if you're able to manhandle them on and off their trailers and are willing to drag them across the rocks and shallows to get to and from deeper water; not many people are. I've seen a number of  vehicles pull into the launch area with boats on trailers only to leave after seeing exposed rocks off the end of the ramp. Can't blame them. As a result, boat traffic on Clary Lake this summer is noticeably below normal. Anyone who does manage to get their boat launched has to contend with shallow water and rocks where you least expect them. Only a few of the hazards are marked, leaving vast areas too shallow for safe boating to surprise the unfamiliar boater.
There is ample evidence around the lake of the impact of the ongoing severely low lake levels besides an unusable boat launch, and rocks sticking out of the water. As a result of fluctuating water levels, the loons that call Clary Lake home have not even bothered to try nesting this year, or last. Their last successful nesting attempt was back in 2008. Even more damaging to the ecosystem is the loss of 350+ acres of sensitive, high-value wetlands and the shallow-water littoral zone around the edge of the lake so important for lake health and for bird, fish, and animal habitat. Gone.