Free fishing weekend is the perfect time to introduce someone to ice fishing!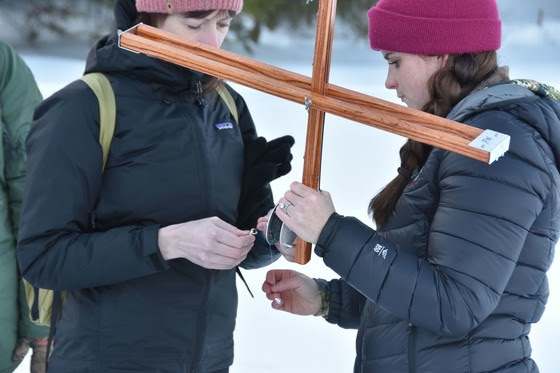 During free fishing weekend, February 15 – 16, any person (except those whose license has been suspended or revoked) may fish without a license. All other laws and regulations apply on these days.
Be sure to check our Facebook and Instagram (@mefishwildlife) pages to learn how you can enter your free fishing weekend photos for a chance to win a $100 Cabela's gift card and MDIFW swag!
Here are some tips to make someone's first time ice fishing enjoyable:
Make it a comfortable experience! Bring plenty of hot food and drinks, and extra warm layers. Although not necessary, shelter from the wind and heat for the cold are always bonuses.
– Fisheries Resource Biologist Nick Kalejs, Sebago Lake Region
Target warmwater species like bass, pickerel, and perch.You are far more likely to find good numbers of these fish, which will keep everyone busy. With most beginners, it is about quantity not quality. After they catch some bass or pickerel, maybe they will want to use more patience and try for trout the next time around.
– Fisheries Resource Supervisor Jason Seiders, Belgrade Lakes Region
Make sure they have warm clothing, including footwear. Being cold or wet on an ice fishing trip is no fun for even seasoned anglers.
– Fisheries Resource Supervisor Kevin Dunham, Penobscot Region
Go to one of the stocked waters for fall yearling brook trout. Many of these waters also have smelt to catch as well. For fast action, set up for smelts in 30 feet of water with a small hook tipped with cut bait to catch these small fish that usually bite readily. Try Madawaska Lake mentioned above or Scopan Lake near Mapleton, both waters have lots of stocked fish and abundant smelt to catch.
– Fisheries Resource Supervisor Frank Frost, Fish River Lakes Region
Fish fast action for chain pickerel. These voracious predators do not hesitate to strike any bait that is put down the hole. If you are looking to catch pickerel, head to Scammon Pond in Eastbrook, Somes Pond in Somesville, Hamilton's Pond in Bar Harbor, and Wight's Pond in Sedgwick.
– Fisheries Resource Supervisor Gregory Burr, Grand Lake Region
Be prepared for slush. Wear (or at least bring along) high rubber boots.Snowshoes can also help to keep anglers above sloppy snow conditions. Cold wet feet can ruin a beginner's trip very quickly.
– Fisheries Resource Supervisor David Howatt, Rangeley Lakes Region
Make it a short trip and target warmwater species like perch and pickerel so you have lots of action.
– Fisheries Resource Supervisor Tim Obrey, Moosehead Region