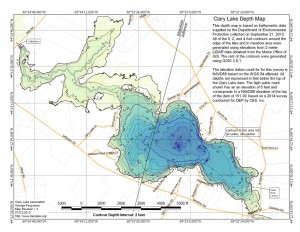 We're offering these neat 8.5″ x 11 " plastic laminated depth maps of Clary Lake with 2′ contours for $6.00 if you want to pick it up, or for an additional $1.50 for postage and handling we'll mail it to you.
Some of you may remember this map being offered for sale at last summer's annual Association meeting. The map is based on data collected by the DEP during their 2012 bathymetric survey supplemented with elevation info derived from 2 meter LIDAR data obtained from the Maine Office of GIS; this extra data was used to fill in depths of shallow areas around the shore, and in the meadow area where DEP was unable to collect data. On the back side is some information about Clary Lake from the Maine Department of IF&W including fish species, area, etc., and a few pictures.
You can download this map and others like it from Maps, Charts and Graphs page and print them out yourself but if you'd like a nice laminated copy and also support the Association, consider buying one of these. Either mail your check made out to the Clary Lake Association, PO Box 127, Whitefield ME 04353, and indicate whether you want to pick it up ($6.00) or have it mailed to you ($7.00). Alternatively you can use this handy form to purchase a map using our secure Paypal service. 
[contact-form-7 404 "Not Found"]