And 2019 is a wrap! I have archived the December 2019 Water Level Chart (at left). The most interesting thing about the December chart is once again, how much precipitation we received. It's been a wet year and December was no exception. It still amazes me how much water can flow into- and out of- Clary Lake in a relatively short period of time. More on that later. In addition to the monthly chart I've also archived a bunch of other charts including the 2019 whole-year chart, the 2019 flows chart, the 2019 precipitation chart, and by the time I'm done probably a few more charts as well. You'll find ALL of them in the 2019 Water Level Charts archive. I love charts. Does it show?
We'll be starting a new 2020 Clary Lake Dam Operation Log tomorrow. It sports a number improvements over the 2019 Dam Operation Log including overall better organization and an improved layout. The 2019 log will continue to be available for review. I'll no doubt be analyzing the 2019 data for some time to come. There is a lot to learn about the hydrology of Clary Lake and 2019 has given us a wealth of data to crunch and contemplate. Stay tuned!
Once again as in early November, precipitation got ahead of us in December and on the 15th of the month, following 1.83 inches of rain, we opened the gate all the way in a successful attempt to drain off excess water and keep the lake level from over topping the dam (we had previously removed the last 2 stop logs on the 11th). The last thing we wanted was to have water going over the top of the dam (and perhaps freezing there too) in December! It came close! All told we received 5.16 inches of precipitation (some in the form of snow) in December, 1.72 inches more than the 3.44 inch average for December. All told, 2019 was a very wet year: we received 47.94 inches for the year, 3.88 inches more than the yearly average of 44.06 inches. Monthly precipitation in 2019 exceed the monthly average for 6 of the 12 months.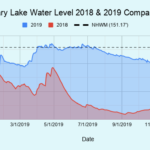 There are simply too many charts to present them all individually in this one post, but there is one that deserve special mention. They say a picture is worth a thousand words and here's one that proves that maxim. This chart shows a day-for-day comparison of 2018 and 2019 water levels. For most of 2018, Paul Kelley and his bankrupt company owned the dam and was in charge of the water level, and boy it shows. We bought the dam in mid-October 2018 and completed repairs by late December. By the end of December we were in compliance with the Clary Lake Water Level Order and we have remained in compliance ever since.
I'd like to introduce and discuss all the charts we've produced this year, but I think that's enough for now! This winter I'll write about some of the more interesting statistics we've come up with. For now, here's the 2019 Water Level Charts archive. Happy browsing. And Happy New Year 🙂