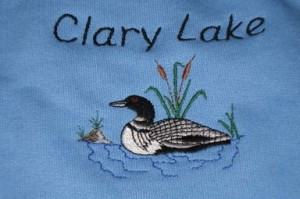 Somehow in the process of changing our treasurer this summer, I ended up with the (dwindling) stock of Clary Lake Sweatshirts. These are now living in a laundry basket in my back hall which was already pretty tight for space. These have been offered for sale at our Annual meetings for the last half a dozen years, for $15. I'm now offering them for sale here on the website for the same price plus $10 to cover shipping and handling for a total of $25. I've set up a page for the purpose with a form to fill out with name and address information which uses Paypal for payments. You can use your Paypal account or a credit card. Here's the page: Clary Lake Sweatshirts For Sale. You'll find a link to the page on the right sidebar of every page on the site, right under the Search box. If you want to avoid shipping charges and pick one up from me directly, give me a call.
At this time we only have left:
2 White Extra Large
6 Gray Medium
4 Gray Large
Email me for availability of a particular color/size combination before you order. Get `em while they last!