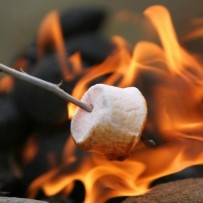 The CLA Momentum Committee is pleased to announce a Winter Festival event for this coming February 25th, a Saturday, from 12 PM to 3 PM. OK, so maybe "Winter Festival" is a bit grandiose for what we have planned, but that's what we're calling it. A notice went out to our membership by email last night announcing the event. Members of the CLA as well as friends, family, and community members alike are invited to join us for a bonfire on the lake. Many of us have been cooped up all winter and an afternoon outside in the fresh air is likely just what the doctor ordered. The event is free, and the only item we've put on the menu is S'mores! We will provide the materials for S'mores, you make them and eat them. You are also welcome to bring your own beverages (no alcohol please) and food to eat. The event is rain or shine, so dress appropriately. Check the weather report so you'll know what conditions you'll be facing.
The event will be held on the south side of the lake off Route 126. Parking will be available in the field belonging to the Fergusson family where people for years have parked and gone swimming, which is located just west of the Whitefield/Jefferson town line, about 1.7 miles from the Whitefield Superette (here is a Google Location Map to help you find it). We'll put some traffic cones and a sign out beside the road. Weather and snow conditions permitting, we will also try to clear a section of the ice for ice skating but that remains to be seen. You should feel free to bring along any recreational toys (ice fishing equipment, snow mobiles, ice skates, ice-boats, etc…) as well. The purpose of the activity is to simply gather around the fire for some good old fashioned conversation on our beautiful frozen lake!
We're also tentatively going to try to make an "ice carousel" of the sort shown in this Youtube video which turned up on the CLA Facebook page last month:
Plans for making this ice merry-go-round are still coming together. Our engineering department has been doing some serious head scratching, never having tried anything like this. It's not rocket science, and we've got a clever group of people working on it, so I'm sure it will turn out just fine. What could possibly go wrong? Plan to stop by and go for a spin!
Plans for this event are still coming together, so keep an eye on the website for periodic updates. I hope you haven't already made plans for this date, we're a little late in getting this notice out. Help us get word of this event out to your neighbors and friends. If you have any questions, ideas, or want to get in on the planning phase of this event, get in touch.
We hope to see you there!!!!!