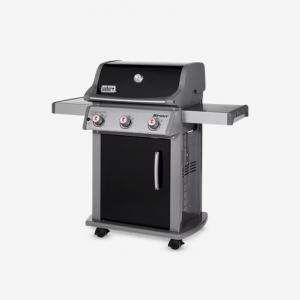 Mark & Tara Doe are CLA members and own a house and property on Hornpout Lane. They're also owners of Louis Doe Home Center in Newcastle. I was talking with them a few weeks ago about how we're going to have to start raising money for dam repairs before long, and out of the blue they graciously offered to donate a Weber Spirit E-310 gas grill (pictured at left) to us to raffle off this summer to start raising some money. We've been scrambling to get all our ducks in a row and get everything ready, and we're about to launch the first ever Clary Lake Association Summer Raffle! We're still in the process of lining up some runner up prizes and hope to be able to start selling tickets as early as next week. We expect this will become an annual event.
Anyone who knows anything about grills knows that Weber grills are top of the line. This grill has a retail price of $639.99 and we hope to raise many times that amount selling raffle tickets! It's for a good cause. Tickets will cost $5 each or 5 for $20. The drawing will be held at the CLA Annual Meeting at the Clary Lake dam, late in the afternoon of Saturday August 27th. You do NOT need to be present to win, just remember to put your name and phone number on the back of your ticket stub so we can contact you.
We'll be putting up a page on the website with information about the different prizes being offered, rules and where you can buy tickets. Here's what our tickets look like:



At this time we don't really have a fund raising goal in mind, we just know that we're going to need a lot of money to finish the job of shooting gunite on the lower portion of the dam that we started in the late fall of 2018. We'll also need to make repairs to the gate structure which is leaking quite a bit now, and which is only going to get worse.