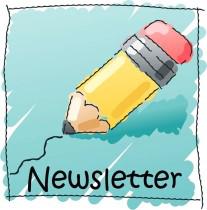 The Clary Lake Association's Spring/Summer 2019 Newsletter went in the mail a couple of days ago. This year we mailed about 225 newsletters, our largest mailing yet. They've already been delivered to most local addresses, but if yours is going out of town it will probably take a few more days to reach you. Traditionally the Summer newsletter kicks off our Membership Drive for the upcoming year which runs from Annual Meeting to Annual Meeting. This year's meeting is going to be held at the Clary Lake dam on Saturday August 3, 2019.
Included with the newsletter is a remuneration envelope to make it easy for you to send in your dues. Dues are still only $25 per member! If you're so inclined you can also sign up or renew your membership on line using our secure Paypal processing system. I try to process new dues payments the same day they're received and will try to keep the Upcoming Year Membership List updated regularly.
Here's a link to the current Newsletter. Feel free to share. I've also added this newsletter to our Newsletter Archive page:
Our Membership has grown from 28 in 2011 to 148 this current year. Our goal for the upcoming 2019/2020 Membership year is 160. If you're considering joining the Association but haven't decided to do so yet, please see our Benefits of Membership page for a few reasons why now is a good time to become a Clary Lake Association member!