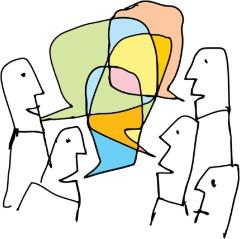 We're having a "We can't believe it's 48 days until Spring" party! Only kidding! We don't need an excuse to gather together and have a little neighborly fun. The date is Saturday, February 1st and the place is the lovely home of Beverly and Gareth Bowen at 739 Gardiner Road in Jefferson (map). The time is 7 PM. Everyone is asked to bring their own favorite beverage and a hors d'oeuvre platter to share. Bring yourself and bring a friend! We hope to have a good showing, there's plenty of room, and it will be a great opportunity for people to get together, get reacquainted with other CLA members, and meet new friends. Let's shake off those mid-winter doldrums together! Maybe someone will even bring a guitar and we can sing the CLA theme song. Hmmm… do we even have a theme song? Well, we can think of something!
This party is going happen pretty much regardless of the weather. If there's a major winter storm underway making travel unsafe or impossible, we'll put it off till the following weekend.
This post is going out as an email to our Membership, and in a few days we'll also be sending a post card to those CLA members for whom we don't have an email address. We'll also be sending around a reminder email a week or so before the party.