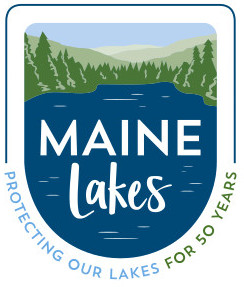 Maine Lakes (formerly the Maine Lakes Society) has posted their Fall 2021 Newsletter and as usual, they've done a fantastic job of highlighting Maine Lakes and the issues they face. As usual, they cover a lot of ground. I found section 3 Recovering Loon Years Lost: Maine's New Loon Stewardship Project to be a particularly compelling read, seeing as how loons are a prominent aspect of summers on Clary Lake. Our loons haven't successful raised a family in quite a few years; the last time they actually managed to hatch any chicks was in the summer of 2018 (see: 27 June 2018: Loon Family Pictures) and sadly, both babies unaccountably disappeared by the 4th of July (see: 04 July 2018: Loon Chicks Missing). They nested again in 2019 but failed to hatch any chicks and we have not seen our loons attempting to nest since, a situation which is both highly unusual and quite disturbing.
A preliminary screening has identified 99 Maine lakes to be included in the Loon Stewardship Project. Clary Lake is not on that list, but ultimately, ALL Maine lakes will be considered and we look forward to participating in this program in whatever ways are deemed appropriate. Stay tuned for more about this interesting and important initiative.

The CLA has a history of trying to foster loon nesting on Clary Lake. Back in the spring of 1999, the Clary Lake Association built and launched a floating loon nest. It disappeared after a while and it isn't clear if the nest was ever actually used by anything besides turtles. The nest, which we thought was lost, turned up again a couple of summers ago (see: 03 June 2020: Floating Loon Nest Found After 21 Years).
There is loads more of interest in Maine Lake's latest newsletter including an excellent write up about the LakeSmart program, something which should be of interest to all of Clary's lake shore owners. I hope you take some time to read this newsletter! Here's a link to the Fall 2021 Newsletter in HTML format:
If you prefer you can view a printable PDF version
The Clary Lake Association has been a supporter of Maine Lakes for a long, long time and continues to offer our financial support to this important organization.