Our Courtesy Boat Inspection program is running like a well oiled bicycle this summer, thanks to an energetic and committed volunteer work force. We got a bit of a late start last year, but this year we started boat inspections on Memorial Day weekend and have managed to have volunteers at the State boat launch every weekend from 6 AM until 2 PM ever since. To date we've staffed 93 two-hour shifts for a total of 192.1 volunteer hours and have conducted 315 inspections. So far this year we've only found one plant on an inbound boat that turned out not to be invasive. State-wide there have been 4,312 shifts (most are two hour shifts but some are longer) and 54,815 inspections conducted and 1,616 plants were found, 67 of which have been identified as invasive plants. I'd say the program is working! You can look at the data directly using the 2020 Maine Courtesy Boat Inspection Dashboard. Select the Clary Lake Association from the "Select Organization" list to see our data.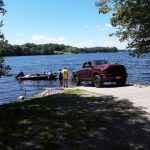 While the vast majority of CBI programs around the state are staffed by paid workers (to date DEP has recorded 21,737.4 paid hours and only 1236 volunteer hours), our CBI program is an all-volunteer operation and we're glad it is. We own it and we have a vested interest in the success of the program because it's our lake. We also don't have the hassle, overhead, and cost of managing payroll not to mention funding it, even with matching grant funds from the State. While looking for aquatic invasive plants is the most obvious reason for conducting courtesy boat inspections, another very real and important purpose is simply one of educating the boating public: we want people to learn the importance of keeping invasive plants out of Maine lakes and to get used to the idea of checking their own boat and trailer for hitchhiking invaders even when there isn't a CBI volunteer available to check it for them. Therefore, conducting boat inspections is as much an exercise in public relations as anything, and it's fun!
This year DEP has provided a smart phone app to record boat inspections to replace the paper forms we used last year, and it's made the data gathering process much simpler and faster. A few of our volunteers still use the paper forms and we enter the data into the app off-site. The boat launch is the only public access point on Clary Lake and many people go there to swim and cool off on hot days, and we've sure had a lot of hot days this summer. There have been days when we felt more like lifeguards than boat inspectors! People are good about getting out of the way when someone wants to launch or retrieve a boat, and that's a good thing because the Bureau of Parks and Lands has adopted rules for conduct at State Boat Launching Facilities including one that states "Swimming from docks, floats, boat launching ramps and areas posted "no swimming" is prohibited." Clearly this rule is generally not enforced but it IS enforced on some boat launches, probably as the result of someone having raised a complaint to the Department, or the Town. The Clary Lake Association is all in favor of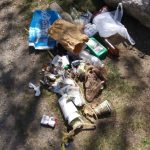 people swimming at the boat launch and would hate to have the rule enforced on our boat launch so we strongly encourage people who wish to use the launch for purposes other than launching and retrieving boats to remember that boaters have the right of way. It would also be great if people would not litter! Do we even have to say this? When things are slow at the boat launch, our volunteer inspectors also do clean up duty. The picture at left was from the first weekend back at the end of May.
Why Are We Doing This Again?
We're conducting Courtesy Boat Inspections because we want to keep invasive plants out of Clary Lake. It's that plain damn simple. There are currently 30 Maine lakes with one or more invasive aquatic plant infestations in them. We don't want to see Clary Lake on that list! A few weeks ago I took a boat ride with a friend of mine on Pleasant Pond and up Cobbossee Stream in Richmond, ostensibly to go fishing, but really I wanted to see an invasive plant infestation in situ, and I was not disappointed: there's a healthy infestation of Variable Leaf Milfoil in that waterway and it wasn't hard to find. The picture at left showing the invasive plant was taken just a little ways south of the Thorofare Road boat launch, where we put in. Further to the south towards the end of Pleasant Pond the plants grow thickly enough to make motoring and fishing a problem. From the boat launch, we headed north up Pleasant Pond and then turned left to travel up Cobbossee Stream and went as far as Horseshoe Pond in Litchfield, a little over 7 miles. We found milfoil growing in several places along the way including extensive patches of it in Horseshoe Pond. While we didn't see any evidence of harvesting or clean up operations, supposedly Friends of the Cobbossee Watershed are engaged in ongoing mitigation efforts.
Here's a great interactive map of invasive aquatic plant infestations in Maine.