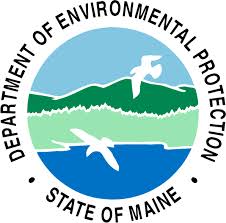 Jane Roy sent an impassioned email to Beth Callahan of the Maine Department of Environmental Protection the other day, and received a response from Ms. Callahan earlier today. Jane promptly posted both emails on the Clary Lake Association's Facebook page but I thought they were worth re-posting here.
Jane Roy is a daughter of Stanley Whittier, a long time Clary Lake Association member who built his place on the lake way back in 1958. The Whittier property is located on the north shore of Clary Lake at the end of the Duncan Road in an area of the lake which as we know has been badly impacted by both low water and pond weed growth (see post "Duncan Road lake shore owners severely impacted by low water" and "Lake shore owners concerned about invasive aquatic plants"). I tied up at the Whittier's dock the other day (in about 12" of water!) and spent a while talking with Stanley and his daughter Gail about the upcoming annual meeting, the low water conditions, the status of 80c proceeding in Lincoln County Superior Court, and various initiatives currently underway by the Clary Lake Association.
Before posting Jane's email and Ms. Callahan's response, I thought I'd comment briefly on this matter. First, I think Jane's email was thoughtful and considerate and absolutely appropriate. Second, I felt Ms. Callahan's response was honest and sincere, but understandably restrained: DEP staff has to be very careful what they say regarding an ongoing 80c proceeding. I'll be somewhat less restrained and say that it is clear to me that both the Maine DEP and the Attorney General are actively engaged and aggressively pursuing a resolution of this matter in court and I am confident that we will ultimately prevail. So take heart people: it is only a question of when, not if, DEP will initiate aggressive enforcement action against the dam owner. Also, the Clary Lake Association is well aware of the fact that other parties besides DEP can take enforcement action. This and other initiatives will be discussed at tomorrow's annual meeting.
Here are the emails:
---
From: Roy, Jane [mailto:Jane-Roy@idexx.com]
Sent: Wednesday, July 29, 2015 4:01 PM
To: Callahan, Beth
Subject: Clary Lake – Please Help Us?
Hi Beth,
I just left you a voice mail at your 446-1586 number.
Please call me and help me understand why nothing has been done to
enforce the Lake Level order. Our Lake is all but gone now.
I cry each time I go to the Lake and watch it disappearing. We all are.
I can't sit back anymore and simply hope that George Ferguson and
the facts of this case will stand on their own merit. Another Summer
has come a gone with additional losses of acreage each year. In 2012
I sold my Sea Doo and bought a kayak because of this mess. I ran aground
in my kayak in the middle of the lake this year. Is this ok? I think not.
Does anyone care? What in Heaven's name can we do to
right all the wrong that Paul Kelly has caused to this lake,
town, and wonderful folks who care deeply about the environment.
I would be eternally grateful to hear that the State of Maine
will not stand for the likes of Paul Kelly and his outright, illegal
destruction of this Maine lake. Are there consequences?
Maybe after we speak, I can explain this to my 84 year old Father
who is also deeply saddened.
I look forward to speaking with you Beth. Your help in this case is
greatly appreciated by all of us.
Sincerely,
Jane F. Roy
Duncan Road, Jefferson, ME
---
Ms. Callahan's response:
---
Dear Ms. Roy,
Thank you for your email describing concerns in regard to water level issues at Clary Lake. Many other lakefront property owners have contacted the Department and voiced their concerns in this matter as well.
As you may know, the Department issued a Water Level Order for Clary Lake in January 2014. What may not be known is that, subsequent to issuance, the Water Level Order was appealed to Superior Court by means of a Maine Rule 80C petition, and a number of parties also filed requests for land use mediation. The Department was named as a party in the suit and in the requests for mediation. Litigation is still ongoing at this time. The Office of the Maine Attorney General represents the Department in this matter, and their office may be able to provide you more details about the regulations of the Maine Rule 80C process. The Office of the Maine Attorney General is aware of the details of the Water Level Order and of every parties' concerns (including lakefront property owners), and they are doing their best to resolve the pending litigation.
Besides the Department, another form of enforcement is available to you, if you are interested in seeking your own action. In Maine Statute, there is an enforcement mechanism that does not limit the Department alone to initiate enforcement action over a violation of a Water Level Order. Maine Statute allows any littoral or riparian property owner to seek enforcement action if they believe a violation of an Order has occurred. For more information, see 38 M.R.S. § 841 Section 3 in Maine Statutes here: http://www.mainelegislature.org/…/sta…/38/title38sec841.html. Taking advantage of this option in Statute may come with its own set of legal challenges similar to what the Department is currently experiencing. So, it may be beneficial to fully examine this option before moving forward with it.
Thank you again for your email. If you have any additional questions or comments in regard to Clary Lake, please contact the Office of the Maine Attorney General.
Sincerely,
BETH CALLAHAN
Project Manager
Bureau of Land Resources
Maine Department of Environmental Protection
(207) 446-1586
beth.callahan@maine.gov
---
Thank you Jane for taking the time to contact the State, and for posting the emails.