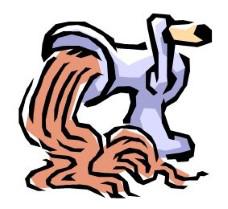 There have been some filings in the past few days in the Paul Kelley bankruptcy case including 2 Proof of Claims (Ford Motor Credit and Preti Flaherty), a Request for Notice (from Butch Duncan), and an interesting Supplement in Support of the Sale Motion by the Maine DEP. I see ALL of these filings as favorable for our efforts to purchase the dam and it is particularly gratifying to have DEP be so strongly supportive of our plan to purchase the dam.
Proof of Claim filings are filed by creditors to document their claim against the debtor, and they are generally not particularly interesting except in this case, they are. The Ford Motor Credit proof of claim names Paul Kelley and Richard Smith as buyer and co-buyer suggesting Paul Kelley needed a cosigner to get his car loan (interestingly, this makes Richard Smith a creditor). As for the Preti Flaherty proof of claim, well there has been a lot of speculation over the years about whether Preti Flaherty [PF] was charging Kelley and Smith for representing them in the Clary Lake Water Level Order appeal and if so, how much. Well, now we know. It turns out that YES, PF was charging Kelley and Smith for their legal representation, and they even got paid for some of it, though they mostly didn't. The last payment made was on August 18, 2015 in the amount of $350 against a balance of $63,044.34. PF continued to wrack up charges: the last invoice is dated October 17, 2017 in the amount of $9,321.00 bringing the total owed on that date to $494,186.14: clearly not a money making effort on the part of PF.
The Supplemental Support of Sale Motion was filed by DEP yesterday. The State wants to make sure that anyone planning to bid on the dam better not expect to receive it free and clear of any environmental responsibilities like the underground tank and the Clary Lake Water Level Order:
Nothing in § 363 sales, including the one that is the subject of the Motion to Sell, may be construed as releasing or relieving any entity of any police and regulatory liability to a governmental entity owed by such an entity that owns or operates the assets so purchased.
The DEP also reiterated its intention to object to any bid that is "materially dissimilar to the stalking horse bid made by CLA." I leave it to your imagination to come up with for whom their filing was intended; it was clearly not the Judge who undoubtedly knows the law, and it wasn't intended for the Clary Lake Association which has already acknowledged in writing it's willingness to accept the dam subject both to the underground storage tank and the Clary Lake Water Level Order.
For obvious reasons I'm not going to comment on Butch Duncan's "Request for Notice" filing. Like all the other filings, it's a public document and you're welcome to read it. It's not materially different from the letter his former lawyer wrote to the court a few weeks ago.
Proof of Claim Filings:
Miscellaneous filings:
The Sale Motion hearing is in 1 week, on July 5th.