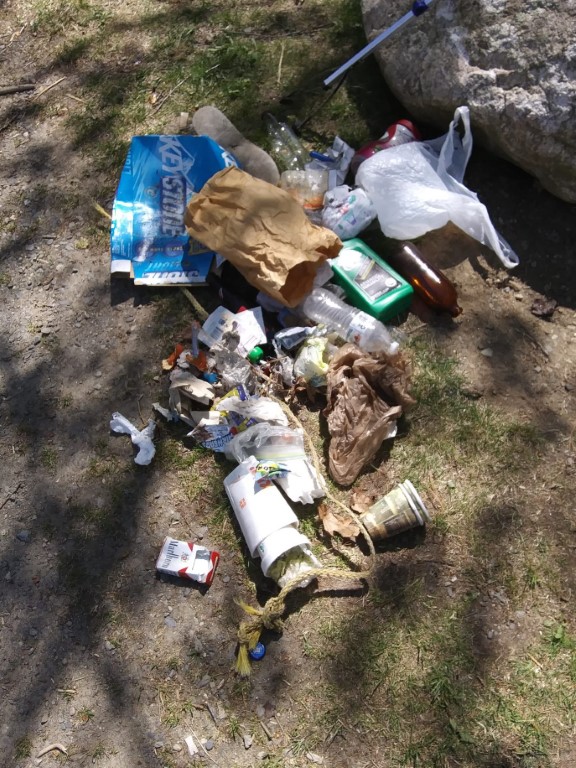 Our 2020 Courtesy Boat Inspection program is underway and our first (long) weekend is behind us. The big surprise was the lack of traffic for Memorial Day weekend! Over three days our volunteers conducted only 24 inspections (we inspect water craft both entering and leaving the lake) many of which were kayaks or paddle boards. Perhaps the sub-zero temperatures this weekend has had something to do with the lack of traffic 😯
Another surprising thing: many of the motor boats did not have 2020 registrations! The main reason people cited were closed town offices and in most cases they said they've registered their boats online but haven't received the stickers yet. Not particularly surprising was the pile of trash (and a full diaper) that our intrepid volunteers collected and hauled off on Saturday. Good grief. What is wrong with people? Many people use my field in Jefferson to access the lake, and they generally do a pretty good job of keeping it clean and respecting the land. If I found a fraction of this amount of trash on my property I'd close down access in a heartbeat. Why do people think they can treat the State boat launch this way?
Last year we recorded data on paper forms which we scanned and emailed to Midcoast Conservancy who did the data entry for us. This year our inspectors are entering their own data at the boat launch directly into the DEP database using a cool phone app developed for the purpose. This is much much more efficient. The data is immediately available for review on the 2020 Maine Courtesy Boat Inspection Dashboard. Cool technology.
We'll be conducing boat inspections at the State boat launch off the North Clary Road from 6 AM to 2 PM on Saturdays and Sundays through Labor Day and perhaps further into the fall. If you're out and about stop by and say hello!