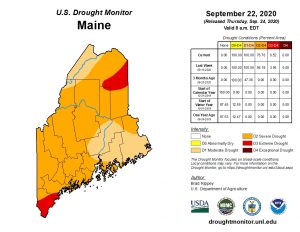 The drought conditions affecting Maine and much of the Northeast are worsening with no relief in sight. Much of the State of Maine is now in Severe Drought (graphic, at left) including Lincoln County. Until today we were in Moderate Drought but the continuing lack of rain is taking it's toll. We have only recorded 0.10 inches of rain so far this month back on September 2nd. Since then, nothing. Despite the dry conditions, at -14.5 inches below the HWM, the lake level really isn't that from where we'd expect it to be this time of year. Last year at this time it was down -10.5 inches. Keep in mind that about 3 inches of that water isn't really ours to manage because the HWM is actually 3.4 inches ABOVE the top of the dam. Perhaps a better way to think of it is we're now down a hair over 11 inches below the top of the dam. When things are this dry, evaporation accounts for a significant amount of water loss. Also, water soaks into the ground around the edge of the lake. Downstream flows are only 2 cfs, less than the current minimum flows of 3.5 cfs.
According to the Maine Forestry Service, the fire danger is HIGH. Under the circumstances, I'd be surprised if they were issuing burn permits at all. Careful out there folks.
[UPDATE] The Maine Forestry Service HAS suspended issuing online burning permits. You or may not be able to get one from your local fire department.