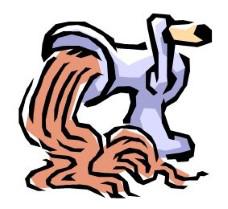 At long last, 3 Orders which we've been patiently waiting for since the hearing on April 25, 2017 have finally been issued by Lincoln County Superior Court Judge Daniel Billings. The first Order was a Joint motion for Extension of Filing Deadlines to April 28, 2017 (thanks for that!) and was GRANTED. The second Order has two parts, the first, Petitioner's Motion for Taking of Additional Evidence and Discovery is DENIED, and Respondent's Motion for Consideration of Extra-Record Evidence is GRANTED. The third Order pertains to Petitioner's Motion Requesting Court Modification of the Record and GRANTS the motion with respect ONLY to those exhibits agreed to by DEP. The remainder of Petitioner's motion is DENIED with respect to those exhibits DEP felt were not relied upon by them in preparing the Water Level Order [WLO] and hence were not relevant in a review of the WLO.
In short, these Orders represent a favorable decision for the State: DEP got everything they asked for while Aquafortis Associates LLC got none of what they asked for except for several concessions not objected to by the State:
So after three and a half years of delays, stays, and stalling tactics (and let's not forget the 13 months of pointless mediation), the jockeying for position is finally OVER and the time has come to hear the arguments for and against the Clary Lake Water Level Order. We won't have long to wait: included with the Orders is a Notice and Briefing Schedule which spells out the schedule for the filing of briefs and responses. Assuming everyone uses their allowed time to file their briefs and nobody tries to delay the proceedings further (I expect the Judge has little tolerance for additional delays from here on out) AQF's brief will be due no more than 40 days from August 15th, by September 25th. The State then has 30 days from the filing of the Petitioner's brief to file their response, by October 25th. Finally, the Petitioner's response to the State's response will be due 14 days later, around October 8th.
For background on the proceedings leading up to these Orders, see "24 March 2017: State files 2 Motions in Aquafortis v. Maine Department of Environmental Protection WLO Appeal" and "11 April 2017: State Files Response to AQF Motion to Modify Record."
I have not heard anything about the Rubin/Ayer lawsuit lately but it seems reasonable to expect that with the WLO appeal now moving forward, that their suit against Kelley and Smith will also start moving forward.