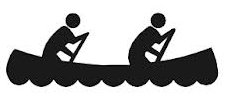 Here's an interesting news item. I got home this morning to find a page from the September 19th issue of the Lincoln County News sitting on my dining room table with a short news item on page 11A highlighted for my attention. Apparently the Pemaquid Paddlers (never heard of them before) are planning to descend on Clary Lake next week. I have no idea how or why they selected Clary Lake for their loon-commune experience or how many paddlers they're expecting, or for that matter whether they're aware of the low water conditions they'll encounter in the channel- or the drained wetlands:
---
Pemaquid Paddlers follow the call of the loons on Clary Lake
On Tuesday morning, Sept. 24, the Pemaquid Paddlers will mingle with the loons and other wildlife on Clary Lake, a great pond of almost 680 acres straddling Whitefield and Jefferson.
All trips will leave the put-in point at 9 a.m. and will last 2 to 3 hours. The trips are easy to moderate in difficulty. Participants must provide their own canoe or kayak and wear a life jacket. All trips are free and open to the public and will be held rain or shine.
For more information:
contact John Will at 677-6380 or email at pemaquidpaddlers@aol.com. One can also, visit their website at http://pemaquidpaddlers.blogspot.com to find out more details about each trip.
Tuesday, Sept. 24: Clary Lake: Put-in, from Newcastle, take Route 215 north for 14.3 miles, shortly after passing Route 126 is the state public put-in site on the left. They will paddle to the old mill at the far end of the lake.
---
The last time I was up in the channel with my son earlier this summer we had trouble getting through because the channel was getting choked with weeds (see the Summer 2013 Photo Album). While the lake is about a foot higher now than it was then, undoubtedly the reeds have filled in even further.
Here's a link to the article which includes a picture:
Pemaquid Paddlers follow the call of the loons on Clary Lake