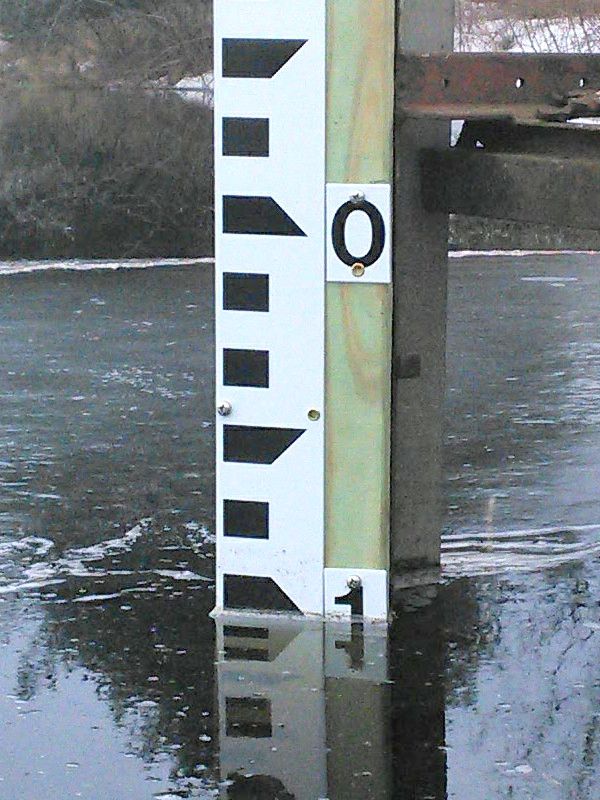 Work to come into compliance with the Clary Lake Water Level Order (WLO) continues. Special Condition #6 of the WLO requires that the dam owner install a lake level staff gauge graduated in feet and tenths of a foot located in a "publicly visible location" behind the dam. The zero foot mark on the gauge must mark the elevation of the Normal High Water Mark (HWM) which has been previously determined to be at an elevation of 151.17 feet. I had already purchased the staff gauge from Forestry Suppliers earlier this winter. It's nicely constructed of steel with a baked-on enamel coating, easy to read graduations, and brass grommets in the screw holes. It's attached to a piece of pressure treated 5/4 board with stainless steel screws which in turn is attached to two steel brackets bolted to the gate structure with stainless bolts. It should prove serviceable for many years. Many thanks to Colin Caissie (pictured below left) for designing and fabricating the brackets to attach the staff gauge to the gate structure, and for helping with the installation.
Yesterday Colin and I installed the staff gauge, setting it at the correct elevation using the benchmark that I established in December 2011 to set the height. Special Condition #6 also requires that we retain a professional to verify that the staff gauge has been installed correctly and to that end, Mark Daiute of True North Surveying Services in Newcastle Maine was on site yesterday for that purpose. He set up his dual frequency GPS receiver and collected data for a little over an hour. After post processing his observations, he called me this morning to let me know that his elevation and mine agreed to within less than 0.01 feet. Close enough for Government work 🙂

This morning I went over to the dam to measure the water level and determined the lake level to be -1.01 feet below the HWM which agrees perfectly with the above picture of the staff gauge which shows the water level to be just a hair more than 1 foot below the HWM. One hundredth of a foot (0.01′) is slightly less than 1/8th inch. Can't get any closer than that!
The staff gauge is supposed to be "publicly visible" and this one is in fact visible from the road. You don't even even have to get out of your car to check the lake level. I took the picture at left standing on the side of the road by the bridge. Slow down the next time you're driving by and take a look at it. You can also keep an eye on the Clary Lake Dam Operation Log.
The last thing we have to do to come into complete compliance with the WLO is to prepare a Water Level Management Plan, described in Special Condition #5. We're working on it.