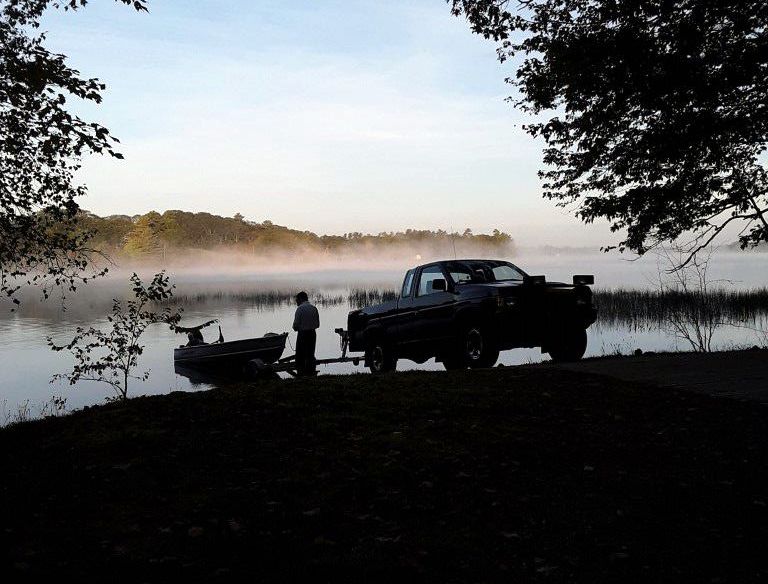 Last weekend marked the conclusion of the Clary Lake Association's first Courtesy Boat Inspection season and I'd like to thank our volunteers who gave of their valuable time to help out at the boat launch this past summer. In no particular order: Dave & Gayle Knight, Dan & Dolly Burns, Gareth Bowen, Wynne & Michael Keller, Malcolm Burson, Jack Holland, and George & Margaret Fergusson.
The purpose of the State's Courtesy Boat Inspection Program is to prevent the transport and introduction of invasive aquatic plants into lakes in Maine, and this is the 19th year that the program has been in existence. With the repaired dam and newly restored water level this Spring we anticipated a significant increase in boat traffic and our concerns understandably turned to protecting Clary Lake from the chance introduction of invasive aquatic plants. It took a little while to get up and running, but finally, in early July, about a dozen CLA volunteers attended a short training session put on by Midcoast Conservancy (see "Courtesy Boat Inspection Training Set For July 1st") and we started up our inspection program the following Saturday. Our goal was to have a courtesy boat inspector at the State boat launch on Saturdays and Sundays from 7 am until 3 pm. We broke the days up into 2 hour shifts.

The overall stats for our CBI activities this past summer are impressive: We started inspections on Saturday July 6th and concluded them on Sunday September 29th representing a total of 85 individual 2-hour shifts. Most CBI programs around the State wrapped up their activities after Labor Day, but we saw no fall off in boat traffic by the end of August and we therefore felt justified in extending our inspections through the month of September. All told CLA volunteers spent 173.8 hours at the State boat launch and made a total of 270 inspections. 4 plants were found, none of which were determined to be invasive.
Here's a link to the 2019 State-wide CBI data compiled by DEP. It's worth spending some time looking it over, there's a lot of information here including individual inspection details and shift details. Click on "Clary Lake Association" in the "Organization" panel on the left side to see the details for our program:
By far the most popular "last lake visited" was Clary Lake itself and this turns out to be the case with most lakes in Maine: people tend to have a favorite lake and make a habit of returning to them throughout the summer. State-wide there were 25,148 inspections which netted 729 plants, 63 of which were verified to be invasive species. The risk is real folks!

The biggest surprise for me was how much fun courtesy boat inspections turned out to be! Far from being a chore, we all came to look forward to our 2 hour shifts and enjoyed talking to boaters about Clary Lake, fishing, and of course, their boats. There were also a lot of people who were simply looking for a place to swim and relax.
This past summer we've been working under the auspices of the Midcoast Conservancy, and they've handled all the administrative details associated with participation in the State's CBI program. Next year however we're going to be on our own. This coming winter we'll be looking into the requirements for running our own CBI program so we'll be ready to hit the ground running next spring. We'll be looking for more volunteers and would like to both expand our inspections to include week days, and extended hours (it was a rare morning when I arrived at the boat launch at 7 am and found the parking lot empty!). If you are interested in getting involved in this fun and important program, contact George Fergusson.