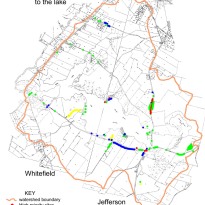 Every year in early September the Maine VLMP holds a Watershed Survey Workshop in conjunction with the Department of Environmental Protection. I attended one put on by the Damariscotta Lake Watershed Association this past spring and found it both educational and fun. Anyone planning on helping out with updating the Clary Lake Association's 2001 Watershed Survey (tentatively scheduled for next spring) would benefit greatly from attending this workshop. Contact me if you have any questions or would like more information.
---
Watershed Survey Workshops
2014 Watershed Survey Training Workshop
How to Identify, Monitor and Mitigate Ways in Which Watershed Land Use Influences Lake Water Quality
Fri. September 12, 10AM to 3PM – VLMP Lakes Center, Auburn
Virtually all of the natural characteristics of a lake are influenced by the land area, or watershed, that drains to the lake. But human activities that alter the natural protective features of lake watersheds can result in significant degradation of water quality and aquatic habitat over time, unless conservation measures are undertaken to protect the lake. This workshop will cover basic information about the relationship between lakes and their watersheds, common threats to lake water quality from watershed development, and how to identify and resolve problems through the watershed survey process. We will begin with an inside discussion, followed by a field trip to a nearby lake watershed.Please bring a brown bag lunch. 
Pre-registration is required. To register please contact the VLMP office at 207-783-7733 orvlmp@mainevlmp.org.