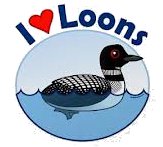 Mary and Ernie Shaw completed the 2013 Audubon Loon Count this morning. While they headed east from their place along the south shore, my wife Margaret and I headed up the west side and the along the north shore. We met up not far from Ed Grant's place and stopped to compare notes. The loon count takes place all over the State between 7 am and 7:30 am on the 3rd Saturday of July and includes more than just the number of loons counted. Mary will be giving a report on the count at the Annual meeting.

 We counted only 2 loons this morning though as many as 6 have been seen in recent weeks. When they're nesting, one pair is about normal for a lake the size of Clary but they're not nesting this year and it appears they're rather more sociable when that is the case.  I have no idea where the other loons were this morning, likely off visiting another lake. They do fly around a fair bit more than I ever knew- I was told when I was growing up that loons landed in the

spring and never flew again till they took off in the fall. I now know this is not the case. There are a few more pictures from the loon count in the Summer 2013 Album.