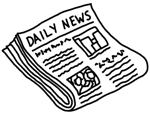 Paul Koenig has written an article that appears in today's Kennebec Journal. I was interviewed for the article late last week.
DEP says no timetable on Clary Lake water level decision
The notion that a "historic" mill building located down stream from and designed to accommodate the outflows from Clary Lake and use them to generate power should after over 100 years suddenly be at risk from high water damage is bad enough. Concluding that the water level of Clary Lake should be drastically lowered so as to severely restrict outflows to protect this building is just wrong. To then impose these flow restrictions on the dam property via restrictive covenants is ludicrous.
The mill pond dam head wall leaks and the original outlet weir has been filled with concrete, severely limiting the amount of water that the mill pond can accommodate. These issues were pointed out in a 2003 engineering study conducted for Pleasant Pond Mill LLC, the original owner of the mill property. The study recommended reopening the original outlet weir. This step has not been taken.
The KJ provides opportunity for people to comment on articles. I recommend you do so.