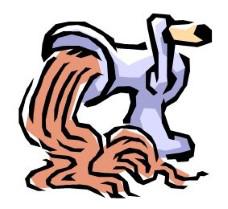 My wife and I spent the better part of last Wednesday the 16th at Lincoln County Superior Court attending 2 different hearings. I had already planned to attend the discovery hearing in the Clary Lake Water Level Order appeal proceeding (Docket No. AP-14-1 ) scheduled for 1:00 PM, then Tuesday afternoon I got a call from Bob Rubin informing me that the Judge had also scheduled a discovery hearing in the Rubin/Ayer lawsuit (Docket No. 2016 CV-002) for 9:00 AM that same day. The judge, Justice Daniel Billings, is the same for both cases. Wednesday was looking like Clary Lake day at Lincoln County Superior Court and my wife and I decided to make a day of it and attend both hearings, which we did, and we even found enough time between hearings for a nice lunch at Sarah's.

A little background regarding Docket No. 2016 CV-002 is in order since I haven't written about it on this website since it was first filed: Robert Rubin and Cheryl Ayer are husband and wife, Clary Lake shore owners, Clary Lake Association members, and they are both lawyers licensed to practice in the State of Maine. Their property is on the west shore of Clary Lake. Many of you will remember Bob Rubin from the role he played during the Clary Lake Water Level Petition process, representing the Clary Lake Association pro bono as an intervener in those proceedings. Shortly after issuance of the Final Clary Lake Water Level Order on January 27, 2014, Bob Rubin retired. On January 11, 2016 Bob and Cheryl filed suit in Lincoln County Superior Court (see: "31 January 2016: Clary Lake Shore Owners Rubin & Ayer File Suit in Superior Court"). At the time Cheryl Ayer was a Board member of the Association. She subsequently resigned her Board position in April 2016 so as to avoid any appearance of a conflict of interest. Their complaint named defendants Paul Kelley, Pleasant Pond Mill LLC (PPM), Richard Smith, and Aquafortis Associates LLC (AQF). Paul Kelley and Richard Smith are defending themselves in this proceeding, they are not represented by counsel.
The primary purpose of this hearing was to address the discovery requests filed by Rubin and Ayer. There were also a few other matters awaiting the Judge's attention including arranging for Alternative Dispute Resolution (ADR, aka mediation). Much of the first part of the hearing dealt with issues raised by Mr. Kelley and Mr. Smith around service of process, despite the fact that the Court had previously responded with an order denying defendant's complaints about the manner in which they'd been served notice by Attorney Rubin. Nonetheless, the Court did decide that Mr. Smith had not been served notice of discovery at the correct address and hence Mr. Smith was given 30 days to respond to the request. Mr. Kelley and PPM however, who failed to respond in the time provided, has to produce the requested the documents and information by January 10, 2017 with his deposition to follow 14 days later. The parties also submitted their requests for a mediator. At Rubin's request, the Judge ruled that mediation should proceed concurrently with discovery, which will help speed things up. An Order explaining the outcome of the day's hearing will be forthcoming, and I'll post it when I get a copy.
Before moving on to the afternoon WLO hearing, I should add that despite the fact that I haven't written much about the Rubin/Ayer lawsuit on this website, I have nonetheless been following it very closely as well as sharing news about it, and filings, with other interested parties. Assuming Bob and Cheryl prevail with their lawsuit, I think we can expect more lawsuits to follow. There are over 100 littoral properties around Clary Lake; now that the path will have been blazed, how many of them will decide to file their own suit against Kelley and Smith?
The afternoon hearing was of an entirely different character than the morning session and it was hard to follow what was going on. Assistant Attorney Generals Scott Boak and Thom Harnett were there representing DEP, and PretiFlaherty attorneys Tony Buxton, Tim Connolly, and Rob Borowski where there representing the Petitioner (AQF).
The primary thrust of the discussion centered around the Administrative Procedures Act and whether the DEP, in an 80C proceeding, was justified in requesting additional evidence (discovery) beyond that contained in the Administrative Record. Normally the answer to this question is a simple "no" but because AQF submitted an amended petition including requests for declarative relief as well as raising some other issues, the State felt that additional discovery was necessary, and justified. It took several hours to get there but finally, after a 30 minute recess when the Judge disappeared into his chambers to do some research, the Judge concluded that yes, the Court had the discretion to authorize additional discovery but that in this case he wasn't going to allow the request.
Petitioner had previously requested their own discovery, but that motion will be addressed at another time. As above, I will post the Order resulting from this session of sausage making when I get a copy.
Both of these lawsuits have mostly languished inactive in recent months, so yesterday's hearings were not only welcome, but long overdue. I must admit that much of what transpired in the hearings went over this lay person's head, especially in the afternoon session, but my wife and I did come away from the day with one clear and overriding understanding: the waiting is over, these cases are going to move forward now. That conclusion is hardly a stretch: at the beginning of the morning hearing the Judge even explained that the State's (WLO) case had been stayed so an attempt could be made to settle, but that those "settlement efforts had failed," and that the case would be moving forward. This admission from the judge did not come as a surprise to me, since I'd already pretty much come to the conclusion that the rumored settlement efforts, under way for since last spring, were simply not going to bear fruit.
Let us hope the time of waiting is over.