Just when you thought conditions around Clary Lake couldn't get any worse, well conditions got worse: anyone who has spent any time on Clary Lake this summer is all too aware of the explosive growth of Elodea in shallow areas around the lake. Rapid growth of this pond weed was a noticeable problem last summer and it has only gotten worse, not better. Elodea nuttallii is not a recognized invasive plant species in Maine but it is considered invasive in some jurisdictions including in Europe where it is a real problem. It's an opportunistic plan in any case, and under the right conditions it can be very prolific. Clearly the conditions existing in Clary Lake now are about perfect to promote exuberant growth of this plant: lots of shallow water with a muddy bottom, plenty of nutrients, and lots of sun. Elodea growth has gotten so bad in some places that there are large mats of the weed on or just under the surface of the water, even near the middle of the lake. I took the above picture about 1400′ off the south shore of the lake- almost 1/3 of the way across to the other side- in 7′ of water. Normally the water would be 12 feet deep here, too deep to support the growth of Elodea. Now, with the lake level down 5 feet below the top of the dam, conditions are perfect. Everywhere you go it seems you're seeing Elodea at or just below the surface. You'll find more pictures in the Spring/Summer 2016 photo gallery.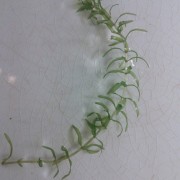 Last summer, Elodea growth was especially evident in the cove on the north shore of the lake in the vicinity of Duncan Road and in many other shallow areas around the lake. This year it can be found pretty much everywhere there is a mud bottom and the water is less than 7 or 8 feet deep. I have warned people before and I'll say it again: major changes to Clary Lake's flora and fauna are underway and are likely to accelerate unless historic water levels are restored, and soon.
A little over a year ago, I had this to say about the rapidly growing Elodea problem:
---
At the risk of sounding like an alarmist, I've been warning people that something like this was going to happen, it's just taken a little while for the effect of severely lower water levels to manifest. And it's just starting: if historical lake levels aren't restored soon, conditions around the lake are going to deteriorate even further, and faster.
---
You'll find the entire post here: 08 July 2015: Lake shore owners concerned about invasive aquatic plants. This problem and others like it are only going to get worse until the lake is is restored.