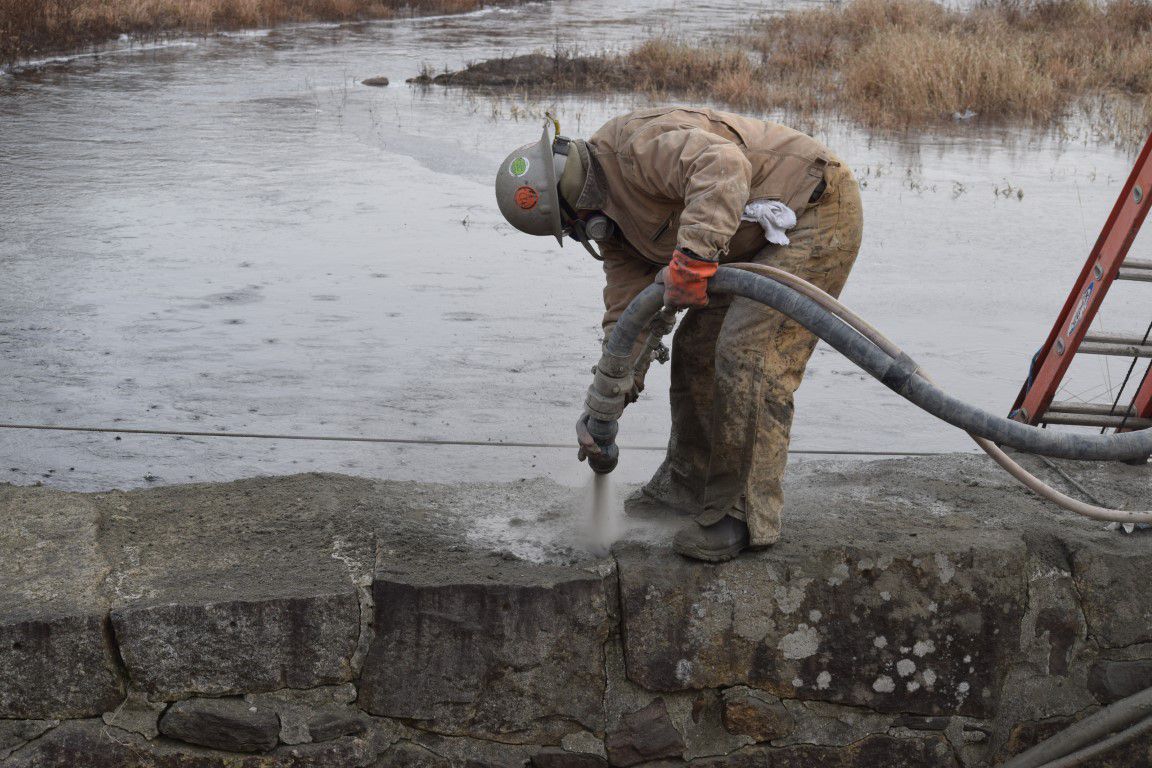 Yesterday was a landmark day at the Clary Lake dam for several reasons, not just because the underground storage tank was removed but also because PCS "shot gunite" to seal the upstream face of the dam! What an exciting (and loud!!) experience that was! I wasn't familiar with gunite and had never seen the process so I didn't know what to expect. The cement comes in a cement truck like regular concrete, but there the similarity ends; rather than a concrete slurry, the stuff that comes down the chute is actually only slightly damp concrete and sand mix. It dumps into a device with a strainer to trap large particles that "fluffs" it up and then blows it down a long rubber hose. At the nozzle end high pressure water is injected into the stream. The whole system is powered by high pressure air from a compressor.
It was very gratifying watching the high pressure stream of water and cement fill holes, cracks, and voids. Some of the larger voids took as much as 30 seconds to fill. I half expected one in a while to see water and cement come shooting out the other side of the dam, but I never did. Here are some more pictures of them "shooting" gunite:
All told it didn't take them long once they got started. The were plagued with equipment malfunctions all morning, but once the cement truck arrived around noon, they got right to it and were done in less than 2 hours. Then they draped insulating blankets over the dam to help hold in the heat generated by the curing of the concrete.
I've got a couple of short videos I'll post separately.