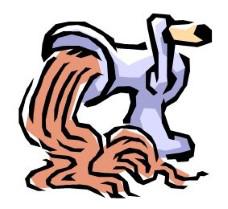 You may recall that back in December 2018 Aquafortis Associates LLC (AQF) took issue with the Department of Environmental Protection's decision to transfer the Clary Lake Water Level Order to the Clary Lake Association, and that they subsequently appealed that DEP decision to the Board of Environmental Protection (BEP). The BEP subsequently denied AQF's appeal at a June 2019 hearing. Then, in a move that defied understanding, on July 8, 2019 AQF appealed the BEP decision to Kennebec Superior Court, docket no. AP-2019-31. I posted an article about the Superior Court appeal (see "Aquafortis Associates LLC Appeals BEP Ruling"). The Clary Lake Association was named as a Party in Interest in the appeal. I haven't written anything else about this proceeding since the appeal was filed in Superior Court on July 8th, but that doesn't mean nothing has been happening.
During the several months following AQF's July 8th filing of the appeal in Superior Court, there was the usual flurry of filings and by the (3) parties. The State for their part filed the Administrative Record (copies all the documents and correspondence used or reviewed by the DEP and the BEP to arrive at their decision). The State also filed a motion to dismiss independent claims. AQF through their counsel Dennis Carrillo filed a motion to supplement the administrative record, and the Clary Lake Association, through it's counsel Randy Creswell, filed a motion to transfer the venue from Kennebec County to Lincoln County. All three motions have been "fully briefed" and I believe the motion to dismiss independent claims has been acquiesced to by all parties which leaves the motion to supplement the record and the motion for venue change to be decided by the court.
A hearing has been scheduled on January 10, 2020 at 10:30 AM in Kennebec County Superior Court at which time the Court will address two outstanding motions. Kennebec County Superior Court is located in Augusta at 1 Court St Suite 101. The hearing is open to the public.