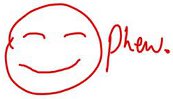 Well almost in the mail. Our application to reinstate our 501 c(3) exemption is going in the mail in about an hour, just as soon as the post office window opens up again at 1 PM today. Again, we are grateful for Paul Kelley bringing this matter to our attention. Of course, I sincerely doubt he thought he was doing us any favors, but clearly he did. Who knows how long it would have been before we came to the realization that our 501 c(3) status had been revoked? What is totally ironic is that he filed an objection with the Attorney General's office because he objected to our soliciting contributions without 501 c(3) status. And what were we soliciting contributions for? A dam repair fund which could well end up benefiting him. Go figure.
Incidentally, the approved form 1023 application with attachments in all their glory must by law be made available to the general public. The operative word there is "approved." When our application is approved, I will post a link to it. Until then, try not to let the anticipation get to you.
Now, for the rest of the story. We received a letter from the Attorney General's office last Friday informing us of the State law called the "Charitable Solicitations Act" (eh?) and of our need to apply to the Office of Professional and Occupational Regulation (OPOR) either for a solicitation license, or an exemption. It turns out, not surprisingly, that the Clary Lake Association is exempt under the law so the only requirement is that we file an Exempt Charitable Organization application and send them $10. Furthermore, we will need to reapply for exemption every year, each time paying $10. My only question is WHO THOUGHT UP THIS LAW AND WHAT ARE THEY DOING FOR WORK NOW?
So once again, we owe Paul Kelley thanks for at least indirectly bringing this particular instance of the Clary Lake Association's non-compliance to our attention so we can rectify it. I say indirectly because he filed a complaint with the AG no doubt anticipating (and no doubt hoping) they would give us a world of grief for soliciting without 501 c(3) status. In fact, the AG's office couldn't care less about our 501 c(3) status, that being a matter for the Internal Revenue Service.
So along with our IRS form 1023, our Exempt Charitable Organization application is also going in the mail today and it is with a sigh of relief that I put this stuff behind me. The last thing we want to do is operate under, above, or outside of the law 🙂