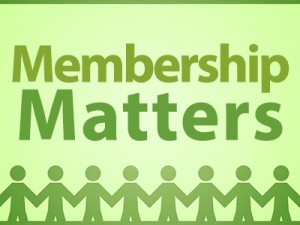 At our Annual Meeting just concluded, we added 22 people to our membership rolls, less than usual only because so many people joined or renewed their membership before the meeting. This brings our current member total to 104, by far the most members we've ever had right after the Annual Meeting. Typically dues continue to come in for several months after the Annual meeting so I am confident we'll reach this year's membership goal of 140. Eight of our new members have never been members before. I find it particularly heartening that we continue to attract new people! Now more than ever, Membership Matters.
For those of you who are a little confused about our membership year, it is not based on the calendar year but instead straddles it, running from Annual meeting to Annual meeting which is usually on the 1st Saturday in August (this year it was changed to the second Saturday to accommodate our meeting hosts). It's been this way since the the Association was first formed back in 1960 and while there has been talk over the years of changing our membership year to correspond to the calendar year, it's never happened and probably won't anytime soon.
I posted these membership numbers last spring in a previous "membership update" and they bear repeating here:
Clary Lake Association Membership History
| Membership Year | Number of Members |
| --- | --- |
| 2011/2012 | 28 |
| 2012/2013 | 41 |
| 2013/2014 | 50 |
| 2014/2015 | 70 |
| 2015/2016 | 81 |
| 2016/2017 | 120 |
| 2017/2018 | 140 |
| 2018/2019 | 150 |
| 2019/2020 | 154 |
While the change in our bylaws a few years ago allowing 1) multiple members per family and 2) not requiring that members own property on Clary Lake or have deeded (legal) access to it explains some of the increase in recent years, it doesn't begin to fully account for it by any means. Clearly, there is increased concern over the health and wellbeing of Clary Lake and a burgeoning of interest in and appreciation of the important role the Clary Lake Association is playing in current events. The value of the work we're doing to represent the interests of lake shore owners and community members alike and keeping everyone informed and engaged is extremely important. While we haven't succeeded in resolving the current water level crisis yet, we are helping guide it to a satisfactory conclusion. And progress IS being made.
Again, I would like to thank everyone for their ongoing commitment to Clary Lake, and the Clary Lake Association.