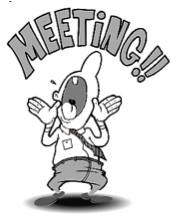 The Clary Lake Association Board met yesterday afternoon at the home of George and Margaret Fergusson to discuss, among other things, the upcoming Annual meeting. This year's annual Clary Lake Association meeting will be Saturday August 2nd at 2:00 PM at the home of Ellis Percy and Joann Tribby. They live in the last house at end of the Madden Road in Jefferson. The rain date will be the next day, same time same place. The big item to be voted on at this year's meeting will be the revised bylaws. You may recall that a Bylaws Committee was formed at last year's meeting and charged with the responsibility of reviewing and revising the Association bylaws. The last time the bylaws were revised was in 2001 so they're long overdue for an overhaul.
The Bylaws committee members have been busy this past winter making many necessary revisions; the proposed revised bylaws will be sent out to the membership for review (along with a proxy ballot for those members who won't be able to make it to the meeting to vote) well in advance of the Annual meeting. At this time we're planning to send them out with the Summer 2014 newsletter on or about the 15th of June. The proposed bylaws will also be posted here, perhaps along with a totally unofficial opinion poll to give people an opportunity to comment on them.
More meeting details, a program, and proposed agenda to follow. This event has been added to the Clary Lake Association Events Calendar. Stay tuned!