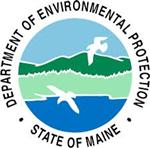 The Department wasted no time in addressing my submission last Friday of Kelley's Covenants, issuing this afternoon Department Procedural Order #8. The Order is short and sweet as is the time given for comments: 3 days. The Order included an updated Service List, a copy of my email, and  all 17 pages of the Declaration of Restrictive Covenants. The Order proper is short:
---
On August 9, 2013, GEORGE S. FERGUSSON, spokesperson for the petitioners, submitted to the Department correspondence stating that a flow restriction of no greater' than 50 cubic feet per second had been placed upon the Clary Lake Dam. As support of this statement, Mr. Fergusson submitted a Declaration of Restrictive Covenants, which was stamped as recorded on August 5, 2013 at the Lincoln County Registry of Deeds in Book #4696 on Page #59.
Future Course 0f Proceeding:
Parties may submit written comments on this documentation to the Department no than August 15, 2013. Comments must be copied to all parties on the Service List.
DONE AND DATED IN AUGUSTA, MAINE, THIS 12th DAY OF August, 2013.
DEPARTMENT OF ENVIRONMENTAL PROTECTÍON
Heather L. Parent, Presiding Officer and Policy Director
---
Here's a copy of the order: