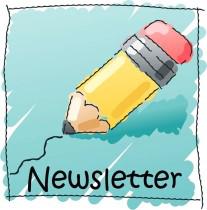 I've posted the Spring/Summer 2016 CLA Newsletter here on the site. Feel free to download it and share it with your friends and neighbors.
A couple of days after we mailed these out 8-10 of them were returned because they had only one mailing seal on the top. Apparently it is now a requirement that folded mail items be sealed on three sides, with the fold on the bottom. Who knew? At least we had the fold in the right place! I put additional seals on the 8 or so newsletters that had been returned and the postmistress sent them out again for no additional charge. Apparently there's a post office worker in Augusta (all the returned newsletters were for Augusta addresses) who's a real stickler for regulations. We won't make that mistake again 🙂
None have been returned for bad addressing which is always nice. If you think you should have received a printed newsletter and one hasn't arrived yet, let me know. If you'd like to be added to our mailing list, email me your contact info.