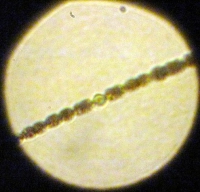 Get ready for an algae bloom. Jack Holland and I went out and conducted our
regularly scheduled water quality monitoring
today and the secchi disk reading was only 2.50 meters (8.20′), down from 3.16 meters (10.36′) just two weeks ago. A lake is considered to be experiencing an algae bloom when the secchi disk reading is 2.0 meters or lower. We're within only 1/2 a meter (1.6′) of that threshold now, and it's only July 10th. Last year on the 18th of July the secchi disk reading was 3.25 meters (10.66′) and we didn't approach the 2.0 meter threshold until almost the end of July. We're  good two to three weeks ahead of last year.
I've noticed over the past 4-5 days the lake color has gotten decidedly murky and brownish/green but I was still surprised the secchi disk reading so low. I probably shouldn't have been given how dry it's been and how low the lake is as these factors contribute to conditions conducive to the growth of filimentous cyanobacteria (aka blue green algae) which are responsible for algae blooms. Once the conditions are right for cyanobacteria to start multiplying, their growth can be explosive.
We'll take a water sample for phosphorus testing during our next water quality monitoring session in 2 weeks. Phosphorus tests cost $25 a pop to get them analyzed by the State so we usually only do 3 tests per year.
[UPDATE: 7/14/2015] Based on the latest secchi disk reading taken about 1/2 hour ago, Clary Lake is officially having an algae bloom. The reading was 1.95 meters (6.40′). As mentioned above, a reading at or below 2 meters is considered to be an algae bloom.