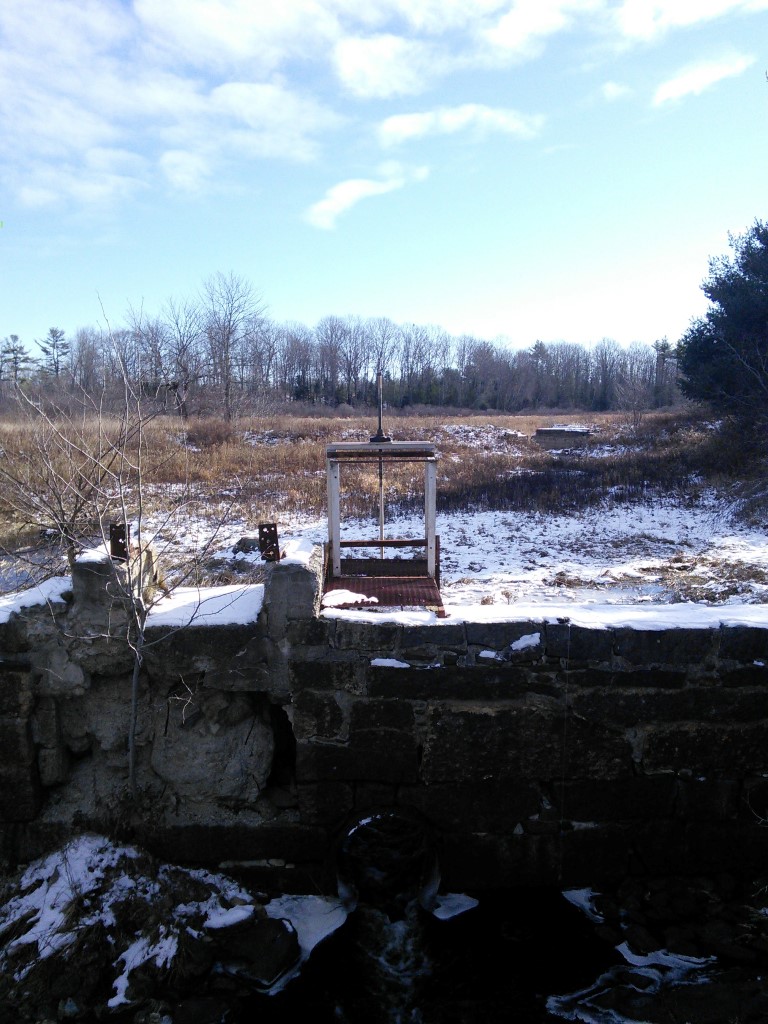 From the "For What It's Worth" department, the Clary Lake dam owner was seen at the dam this morning. It appears the purpose of the visit was to close the gate, at least partway; it now appears to be about 1/2 open though it's still not closed enough to back up water (see picture at left). He opened the gate all the way last Saturday apparently in a knee-jerk reaction to an alleged trespass on the dam by some duck hunters, which he reported to the Lincoln County Sheriff's Department- prompting a visit from an officer. I've not heard any more about that incident. The gate had been completely closed since early July until he opened it last weekend.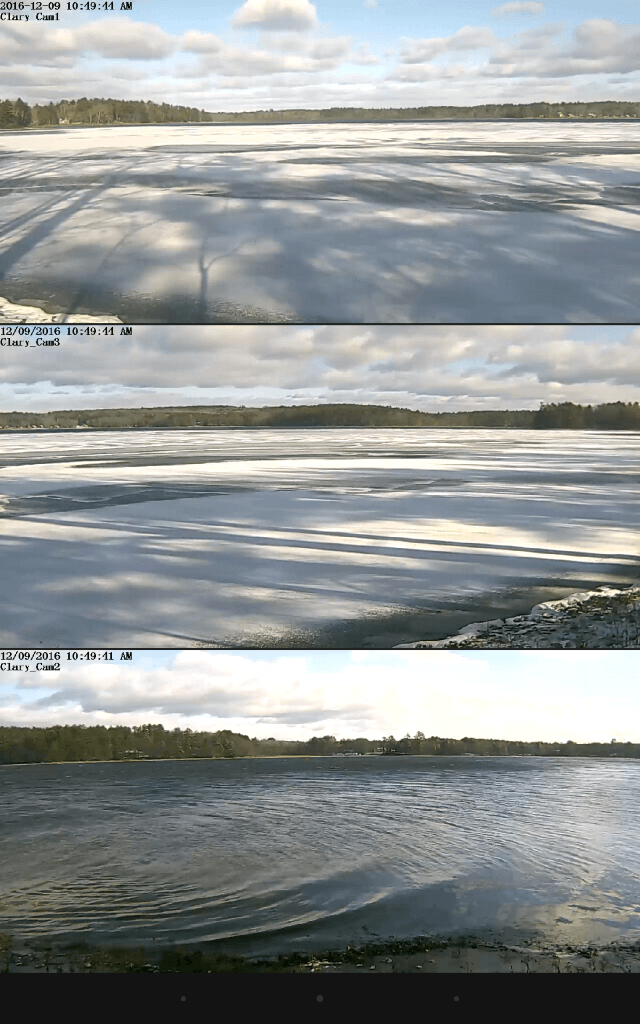 We see good skating on Clary Lake about 1 year out of 3 (if we're lucky) and even when we do have good skating, it usually doesn't last that long. This year is not looking like one of the good ones but it is early yet. The picture at left is a composite photo showing simultaneous views from all three Clary WebCams taken yesterday morning- it's actually a screenshot from my tablet IP Cam Monitor app. From the lake-level views of Cams 1 and 3 (the top two images) it looks like the lake is entirely frozen over but in fact from my second-story office window I can see that the whole north half of the lake is still wide open. Also, as you can see in the bottom image, the entire east-end of the lake is open. I estimate only about 1/4 of the lake is iced over so far, and what ice we have isn't looking very good.
In recent years the lake has completely frozen over in early to mid-December though the ice-in date seems to be getting later and later. Last winter the lake didn't completely freeze over until January 14th (see the Ice-in and Ice-out Dates page). I remember as a kid ice skating on Thanksgiving; Clary hasn't frozen over that early in a long time.
Besides the weather, lake level and the state of the dam's gate can affect how/when and how well the lake freezes over. Typically in the early winter, if the gate is open and the lake level isn't too low, there's a respectable current flowing from the inlet on the east end of the lake more or less straight towards the channel/outlet at the northwest end. This current flows close by the point over at the end of Duncan Road. When this current is flowing, ice has difficulty forming leading to thin ice conditions or even open water well into the winter season. We've seen this condition develop at least early on, most winters in recent years.
Those of you who've been looking forward to ice skating this winter, we hope to have you covered: at a recent meeting of the Clary Lake Association's new Momentum Committee, we talked about making an ice skating rink on Clary Lake this winter. Plans are still coming together, but tentatively, when the ice is thick enough (early January maybe?) we'll look for a sucker volunteer with a snow plow willing to take their truck out on the lake to clear off a good sized rink. We're thinking over on the south shore adjacent to the Fergusson field in Jefferson where people go in the summertime to swim and fish. Once the rink is cleared off we'll pump some water onto the surface to make some nice smooth ice. We'll also plow a road down to the lake, and a small parking area, perhaps put out a few benches for people to sit on to put on their skates. At least that's the plan. It seems rather ambitious as I sit here thinking about it. If we can generate some local interest and get up some momentum, it may just actually happen. Stay tuned for more about this initiative.